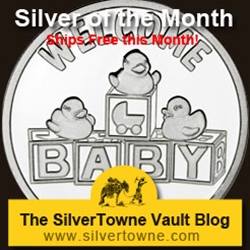 2014 June Silver of the Month
Springtime brings along with it a promise of new growth, renewal and new birth. It's the time of year when long-dormant plants come into bloom filling the air with new fresh scents, temperatures begin a warming trend and a flurry of activity overcomes the animal world. Spring also tends to be the second most popular season for human babies being born (behind autumn).
In recognition of the birth of the SilverTowne webmaster's first child, a boy born on June 2, 2014, as well as other SilverTowne extended family and friends who are expecting, we have selected the Welcome Baby Toy Blocks 1oz .999 Silver Medallion Dated 2014 as the June 2014 SilverTowne Silver of the Month.
The Welcome Baby Toy Blocks medallion features two classic baby toys – rubber duckys and toy blocks. The blocks spell out BABY - with WELCOME inscribed above the design. Three adorable rubber duckys sit on top of the blocks. The reverse (back) of the medallion is engravable, offering the option to personalize for gift-giving. Around the outside of the engravable area is inscribed ONE TROY OUNCE .999 FINE SILVER and 2014.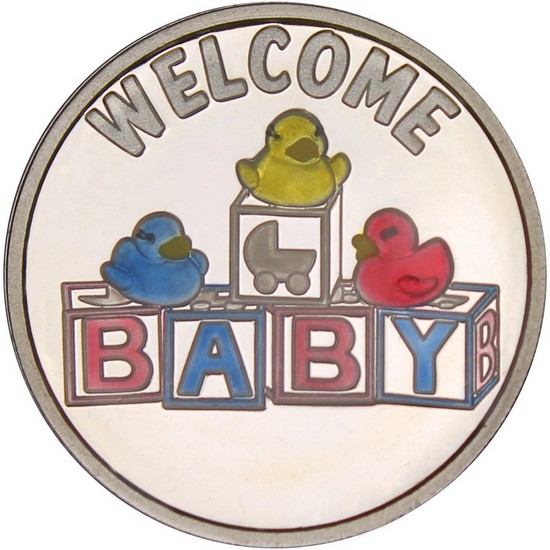 An enameled version of this custom-minted design is also available (undated) - hand-painted in pink AND blue, along with one of the rubber duckys painted yellow. Either version of this silver medallion would make a great gift for all of the new mothers and fathers in your life. Take advantage of free shipping for the entire month of June to pick up your Welcome Baby Toy Block medallions.
Congratulations to all of the new mothers and fathers from all of us at SilverTowne!
Silver of the Month:
Based on customer feedback, the SilverTowne Silver of the Month allows you to add a variety of designs to your silver stacks with a different featured design offered with free shipping each month. As most investors in precious metals know, an ounce of silver is an ounce of silver – but many people like to have different designs in their silver stacks. After all, if you're going to hold physical silver, why not make it fun and interesting as well as practical? By offering free shipping on a different featured design each month, we hope you will be able to add exciting new designs to your silver collection!