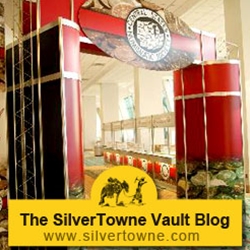 CSNS Coin Show
Operating in a 13 state Midwestern region of the United States, the Central States Numismatic Society (CSNS) is one of the country's largest numismatic organizations. States included in this region are Illinois, Indiana, Iowa, Kansas, Kentucky, Michigan, Minnesota, Missouri, Nebraska, North Dakota, Ohio, South Dakota and Wisconsin. While concentrating its operations in this 13-state region, CSNS membership is open to anyone who wishes to join from any of the 50 United States, as well as residents of foreign countries.
The society was founded in 1939 in order to create an organization for numismatists living in Midwestern states. In 2014, the CSNS leadership board is very excited to be hosting the CSNS 75th Annual Convention! The convention will be held April 23-26, 2014 at the Renaissance Hotel & Convention Center in Schaumburg, IL (a large northwestern suburb of Chicago).
SilverTowne is a proud sponsor of the CSNS coin show and will be among the many dealers in attendance, so be sure to come see us if you are attending! We love to meet coin enthusiasts face-to-face and discuss anything numismatic. You'll find us at booth numbers 1000 & 1100.
In addition to meeting your favorite dealers on the bourse floor, you won't want to miss the great presentations, educational classes and auctions. Whether you're looking to buy, sell or just chat with other numismatic enthusiasts, you'll find plenty of opportunities to interact. See the full show schedule at the CSNS website.
One event you won't want to miss is a special presentation by professional numismatist and researcher Mark Ferguson, at which time he will dispel age-old myths about the famed 1804 Dollar, "The King of American Coins," by exhibiting new evidence from the 1880s and earlier. The event will also serve as the official launch of Ferguson's new book on the subject, The Dollar of 1804 – The U.S. Mint's Hidden Secret, in which he outlines his findings in detail.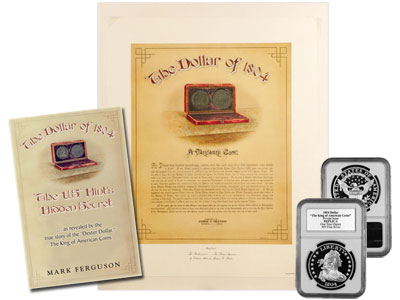 Based on the chronicles of the true story of the Dexter 1804 Dollar, The Dollar of 1804 – The U.S. Mint's Hidden Secret, reveals newly discovered facts, not only about the Dexter Dollar, but about other 1804 Dollars as well. Ferguson's research quest began in 1989 with his discovery and acquisition of a work of art, circa 1887, commissioned by James Vila Dexter himself in commemoration of the 1804 Dollar he purchased in 1885 for a record price at that time. A century later, in 1989, the Dexter Dollar set another world record as the very first coin to sell at public auction for the $1 million dollar level - $990,000 to be exact - by SilverTowne founder Leon Hendrickson to Hugh Sconyers, the manager of a rare coin fund.
In addition to the new book, Ferguson published limited edition prints of J. V. Dexter's 1887 artwork and, in conjunction with the SilverTowne Mint and NGC, has produced silver replicas of the 1804 Dollar encapsulated by NGC – both products make great companions to the book.
The book release presentation will take place at the Central States Numismatic Society convention at 6:00 pm on Thursday, April 24th in room "Nirvana C." A question and answer session and book signing will follow Ferguson's presentation. Those in attendance who register will be entered into a drawing for a package consisting of a limited edition print of James V. Dexter's 1887 work of art, an autographed copy of the new book, The Dollar of 1804 – The U.S. Mint's Hidden Secret, an 1804 Dollar silver replica encapsulated by NGC, and other bonuses all valued at $495.00. Additionally, the author will be signing books at the CSNS book signing table at noon on Friday and Saturday. You can also purchase the new book and related products from SilverTowne during the CSNS convention beginning Friday, April 25 at booth numbers 1000 & 1100, or at www.SilverTowne.com after the convention. We hope to see you at the show!