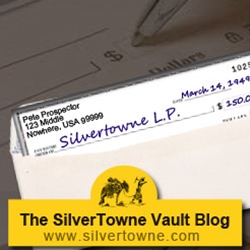 Checks and Money Orders
You may have noticed about a week ago SilverTowne began accepting bank wire transfers as payments for orders of $1000 or more. This is a great option for larger purchases of bullion and coins because you can save 3% per item ordered when paying by wire transfer. But you might be asking - what about smaller purchases? If so, you will be thrilled to learn that we are now also offering a 3% discount on items in your order when you choose our newest payment options, personal check or money order – and the best part is there is no minimum order amount required to take advantage of this option!
The product detail pages on www.silvertowne.com now display one price for Check & Wire payments (with the 3% discount applied so you can easily see your savings should you choose to pay via bank wire, physical check or money order) and one price for Credit Card & PayPal. Similar to wire transfers, check and money order payments also accommodate for less risk and overhead, so we are able to pass along the small discount on items ordered via these payment methods.
Please keep in mind that if you choose to pay with a check or money order a 10% authorization hold will be required on your credit card in order to hold your items and lock in the prices. The 10% will only be captured (charged) to your card if we do not receive your mailed check or money order at SilverTowne within 10 business days of your order being confirmed. Once we receive your physical check or money order the 10% will be voided from your card. If you wish to pay by money order, you can find these products at many banks, credit unions and other various locations, just note that you may be charged a processing fee by those institutions. But depending on the amount of any fees, it may still be a good option for you when you factor in your order discount.
For SilverTowne's complete policy regarding physical check & money order payments, see our Check & Money Order Terms & Conditions. Once you submit an order with check or money order selected as your payment method, you will receive instructions in your receipt on how to send your payment to SilverTowne. If you are paying by personal check, it is recommended you mail the check as soon as possible upon completing the checkout process, as we will hold the entire order until the check clears with your financial institution.
We hope all of these new payment options, and the discounts they offer, are benefits that you will be able to take advantage of when shopping with SilverTowne. As always, thank you for choosing SilverTowne for all of your bullion and coin collecting needs!