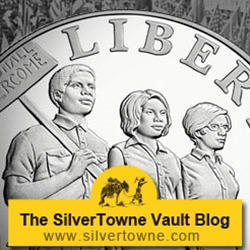 Civil Rights Act of 1964 Commemorative Coin
The latest commemorative coin from the United States Mint marks the 50th anniversary of the enactment of the Civil Rights Act of 1964. This act was an important piece of U.S. legislation that helped solidify the government's role in ensuring equal protection and voting rights to all United States citizens. It outlawed major forms of discrimination based on race, color, religion, sex or national origin.
The bill was initiated by President John F. Kennedy in 1963 when he asked for legislation "giving all Americans the right to be served in facilities which are open to the public – hotels, restaurants, theaters, retail stores, and similar establishments." The Civil Rights Act was then eventually signed into law, after much debate in congress, including a 54-day filibuster, by President Lyndon B. Johnson on July 2, 1964.
The obverse design features three people, one man and two women, holding hands at a civil rights march. The man holds a sign that reads WE SHALL OVERCOME. This scene is symbolic of the many marches that helped galvanize the civil rights movement. Additional inscriptions are LIBERTY, 2014 and IN GOD WE TRUST.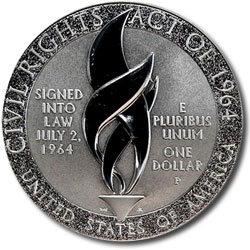 The reverse depicts three flames intertwined to symbolize freedom of education, freedom to vote, and the freedom to control one's own destiny. The design was inspired by Martin Luther King Jr., who said: "They get the fire hose. They fail to realize that water can only put out physical fire. But water can never drown the fire of freedom." Inscriptions are CIVIL RIGHTS ACT OF 1964, SIGNED INTO LAW JULY 2, 1964, E PLURIBUS UNUM, ONE DOLLAR and UNITED STATES OF AMERICA.
There are both mint state and proof versions of the Civil Rights Act of 1964 Commemorative Coin. The reverse of the proof version is of enhanced proof quality with multiple finishes. The flame is mirror polished; the field under the flame incorporates a combination of light polishing and a light laser frost texture; the lettering and torch have a heavy laser frost texture; and the circular ring with text has an accenting polish. This release marks the first time that the United States Mint has used this combination of finishes.
Celebrate this ground-breaking law and its impact on our Nation by adding the 2014 Civil Rights Act of 1964 Silver Dollar to your collection.