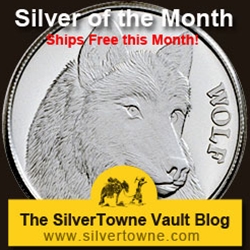 2014 January Silver of the Month
For the first selection of the New Year we are featuring our Silver Wolf Medallion as the January 2014 SilverTowne Silver of the Month. When you gaze upon this silver round, you'll find an alluring wolf staring thoughtfully back at you. Along with the enchanting look on the wolf's face, you'll also notice the creature's fur struck in fine detail. The frosted reverse is engravable and includes the inscription ONE TROY OUNCE .999 FINE SILVER.
Wolves are the largest members of the dog family and are legendary due to their distinctive howling. These mammals live 6 to 8 years in the wild - and are carnivorous, making them fearsome to other animals. They live and hunt in packs of up to 10 wolves, and are known to roam as many as 12 miles in one day. Although they are an endangered animal, some populations of wolves have rebounded from their lower numbers due to self-survival and reintroduction programs.
With so many intriguing qualities, it's no wonder the wolf has been a popular featured subject in numerous books (including The Call of the Wild by Jack London and Of Wolves and Men by Barry Lopez), movies (like White Fang starring Ethan Hawke and The Grey starring Liam Neeson) and songs (such as Hungry Like The Wolf by Duran Duran and Of Wolf And Man by Metallica) over the years. Wolves also play a prominent recurring role throughout the epic fantasy novel series by George R.R. Martin – A Song of Ice and Fire (which became the popular television series Game of Thrones).
If you are a silver stacker who likes to collect different designs, an animal lover, or if you're just intrigued by wolves, the Wolf 1oz .999 Silver Medallion should have a place in your collection. Take advantage of free shipping for the entire month of January and order yours.
Whatever designs you choose, just keep stacking the silver!
Silver of the Month:
Based on customer feedback, the SilverTowne Silver of the Month allows you to add a variety of designs to your silver stacks with a different featured design offered with free shipping each month. As most investors in precious metals know, an ounce of silver is an ounce of silver – but many people like to have different designs in their silver stacks. After all, if you're going to hold physical silver, why not make it fun and interesting as well as practical? By offering free shipping on a different featured design each month, we hope you will be able to add exciting new designs to your silver collection!