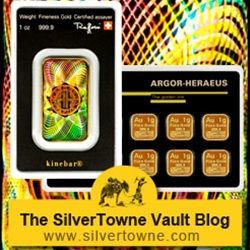 Argor Heraeus with Kinebar® Security Technology
Headquartered in Switzerland, Argo-Heraeus is one of the world's largest processors of precious metals through the company's refining of gold, silver, platinum and palladium. Argo-Heraeus Gold Bars, now available at SilverTowne, are becoming increasingly popular for those looking to invest in gold. The minted bars are attached to a credit card sized certificate and elegantly packaged in unique tamper-proof sealed eco-compatible PET blister packs. This packaging allows for a beautiful and secure presentation of the gold bars inside.
In addition to the gorgeous packaging, Argor-Heraeus is the only refiner in the world to apply KINEGRAM® technology to their precious metals products. The KINEGRAM is a high-tech defractive image embossed into the substrate of the metal, which not only creates a mesmerizing effect, but also adds to the security of the bar - lending to its authenticity. According to www.goldbarsworldwide.com, "The image of the KINEGRAM is composed of invisibly small elementary areas of micro profiles which diffract illuminating light. The areas are used to compose lines and graphical elements. The overall image of the KINEGRAM is generated by varying the angles of diffraction and the diffraction intensities."
The 1oz .9999 Gold KINEBAR® features the KINEGRAM technology on its reverse. This beautiful gold bar would make a wonderful addition to any investor's gold holdings. Also available are 1 gram gold bars, in both 5-bar and 10-bar multi-card packs. The 5 Gram pack contains a total of .16075oz of gold, while the 10 Gram pack contains .3215oz of gold. Any of these three options offer an efficient and secure way to acquire gold bullion.
See all of the Argor-Heraeus Gold Bar products now available at SilverTowne!