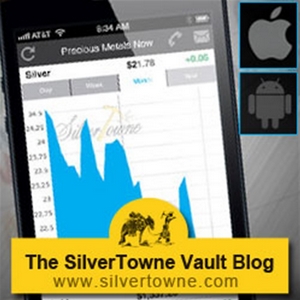 Silver Now - Mobile Market Details
You've come to rely on SilverTowne to bring you live real-time quotes for the precious metals market right from our website. SilverTowne brings these quotes to you free of charge to allow you to make an informed decision when shopping for your next silver, gold or other bullion purchase. While this service is incredibly convenient when you are visiting the SilverTowne website, what about when you are on the go? To help address your busy lifestyle and the increased popularity of mobile devices, we are excited to announce the launch of a brand new app free from SilverTowne!
Now you will be able to stay up to date with the precious metals markets while on the go by downloading the free SilverTowne Silver Now app. With this handy app you'll be able to look up current market quotes for Gold, Silver, Platinum and Palladium on your Apple™ or Android™ smartphone, tablet, or other mobile device. In addition to the current live spot prices for each metal, you also have the option to view charts by day, week, month and year.
This tool also provides you with a current listing of the latest SilverTowne Tweets, Blogs, Podcasts and YouTube videos. Plus, it gives you an updated listing of the hottest products available from SilverTowne.



Highlights of the Silver Now app: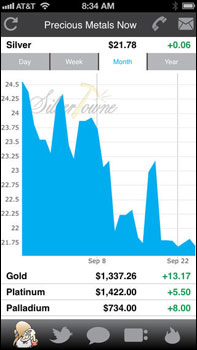 - Stay current with precious metal spot prices, wherever you happen to be.
- Enjoy a live stream of SilverTowne Tweets bringing you valuable information.
- Read all of the latest SilverTowne Blog posts to learn about new releases and more.
- Watch & listen to the latest SilverTowne Podcasts for the latest Gold & Silver news.
- Know when new videos are posted to the SilverTowne YouTube Channel.
- See what others are buying with a current listing of the hottest products at SilverTowne.
Download the Silver Now app and start enjoying it today!
To download click on the appropriate app store button for your device,
or scan the QR code with your phone to go directly to the download page on your device.