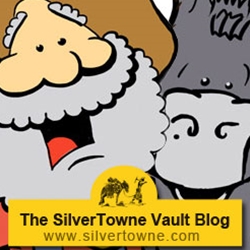 SilverTowne Vault Toons
Investing in precious metals and coins is no laughing matter – but the new SilverTowne Vault Toons are! Whether you enjoy collecting coins or stacking silver and gold, or both, you know how serious numismatics and metals investing can be. So we would like to help break up the seriousness of your week by interjecting some comic relief.
Through Prospector Pete's adventures you just might learn some new vocabulary words from the grizzled prospector, be introduced to a few history lessons, understand what life might have been like for a prospector of gold, silver and other treasures, and who knows, maybe even come to appreciate your own life and modern amenities more.
Be on the lookout for a new Vault Toon around once per week – and laugh along with Pete, his lovable donkey, and other characters they'll meet along the way! You'll be able to find the latest editions posted to the Vault Toons page at the SilverTowne website, on the SilverTowne Facebook page, and pinned to the SilverTowne Pinterest board. Be sure to share your favorite Vault Toons with all of your online connections, so Pete can help put a smile on their faces too!
Check out the first Vault Toon now – we hope you like this new feature!