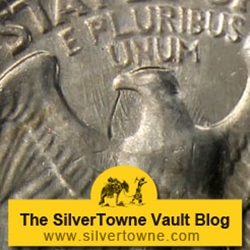 Spitting Eagle Coin
Going through your quarter jar you might notice what seems to be insignificant markings on your coins - what you may not know is how valuable some of those pieces may be. One to be on the lookout for is the 'Spitting Eagle' 1983-P Quarter, which is recognized by a raised line, caused by a declining coining die, that is located beneath the beak of the eagle on the reverse side of the quarter. The location of the marking makes it appear as if the eagle is spitting, hence the variety's name. The spitting eagle quarter variety is reminiscent of the famous 1891-CC VAM-4 Spitting Eagle Morgan Dollar, which also has a mark near the eagle's mouth.
Die cracks are rarely seen on modern US coins, because newer production practices have advanced to the point that there is greater consistency amongst struck coins. Some coin collectors seek out the inconsistencies of the older coins, causing them to gain in popularity - and oftentimes leading to increased value.
The Numismatic Guaranty Corporation® (NGC), one of the world's largest and most respected third-party coin grading services, now recognizes the "Spitting Eagle" 1983-P Quarters. The quarter now appears in the online NGC Census as well as VarietyPlus® attribution catalog. Read the NGC press release here.
A very limited quantity of the 1983-P Spitting Eagle Quarters are available from SilverTowne, so act fast if you want one for your collection. And remember, markings that may appear to be a nuisance on the coins in your collection could actually make them worth hundreds of dollars or more – so examine your coins closely!