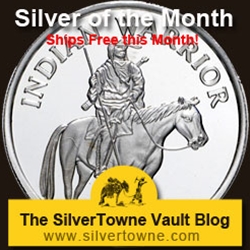 2013 August Silver of the Month
For the August 2013 SilverTowne Silver of the Month, we have selected our silver medallion featuring an iconic Old West image of an Indian Warrior with a spear in hand sitting on his horse. This classic image of an Indian on Horseback is what many people think of when picturing an Indian Warrior in their minds.
Horses were first introduced to the American Indians by the Spanish in the 1500s. Horses greatly improved the lives of these Indians. Prior to having the use of horses, the Plains Indians hunted buffalo on foot, which was not an easy task. Riding on horseback allowed them to chase down the buffalos much more effectively. In addition to hunting companions, horses were used to help carry belongings, as the Plains Indians were nomads and constantly moved from place to place looking for food. Before using horses, the Indians carried everything by hand or with the help of dogs.
One of the most famous 'Indians on Horseback' was of course the fictional Tonto, the faithful sidekick to The Lone Ranger. A favorite line of The Lone Ranger's whenever he wanted to encourage his horse, Silver, into action was 'High-ho Silver, AWAY!' In that same tone, we'd like to encourage you to 'Buy your silver, TODAY!', by taking advantage of free shipping for the entire month of August on our silver of the month - the Indian on Horseback 1oz .999 Silver Medallion. Optional engraving is also available on the reverse of the medallion, allowing you to personalize and give as a gift. Whatever designs you choose, just keep stacking the silver!
Silver of the Month:
Based on customer feedback, the SilverTowne Silver of the Month allows you to add a variety of designs to your silver stacks with a different featured design offered with free shipping each month. As most investors in precious metals know, an ounce of silver is an ounce of silver – but many people like to have different designs in their silver stacks. After all, if you're going to hold physical silver, why not make it fun and interesting as well as practical? By offering free shipping on a different featured design each month, we hope you will be able to add exciting new designs to your silver collection!