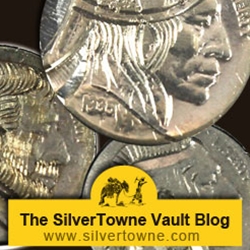 Hobo Nickels
Historical Hobo Nickels became increasingly popular in the 1930's during the Great Depression, when thousands of men across the United States lived a nomadic lifestyle, traveling and drifting on railways looking for work. These men were often referred to as knights of the road, or more commonly hobos. To pass idle hours, hobos would carve coins.
The preferred coin for hobos to carve was the most common nickel in circulation at the time, the Buffalo Nickel. The obverse of Buffalo Nickels features a large Indian head profile, offering a canvas-like carving surface for hobos to create their design on. The Buffalo Nickel was also the hardest US coin in circulation, made of a copper-nickel alloy, making it ideal for carving. The unique artwork of these Hobo Nickels became a valuable token for these men to earn money, food or a place to sleep at night.
Hobos shared their work and techniques in what they called "jungles", commonly referred to as hobo camps. From the large anonymous carving community that arose, two carvers were known by name, Bertram "Bert" Wiegand and George Washington "Bo" Hughes. Although Bert was the instructor, Bo was considered the giant of hobo nickel carving.
The United States Mint ceased production of Buffalo nickels in 1938, although artists continued to carve until the 1980s – and to a lesser degree some continue to this day. Eventually carvers were forced to acquire the nickels from collectors in order to practice their craft. Over the years, the hobo nickel community turned out a surplus of hobo nickels with many different designs - some taking 100 hours of carving time to complete.
Own a piece of history by adding Hobo Nickel Replicas from SilverTowne to your numismatic collection. These replicas come in various artistic designs, with a random design, our choice, shipped for each replica ordered. Authentic older-era Hobo Nickels are increasingly harder to come by, so replicas offer a great alternative for collectors wishing to add these historical coins to their collection.