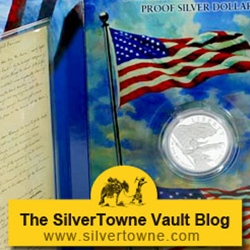 Bicentennial Star Spangled Banner Coin Set
"O say can you see, by the dawn's early light." These words have been memorized by millions of people, but their meaning is much more than just a song or poem. On September 13, 1812, the British launched a rigorous attack on Fort McHenry in Baltimore, Maryland. The battle, which lasted for 25 hours, was one of many battles of the War of 1812. An American lawyer, Francis Scott Key, was detained aboard a British ship, nervously watching the war in the fort throughout the night.
As dawn approached on September 14, Key saw the 15-star and 15-strip American flag flying over the fort as it announced the British had failed. After barely seeing the flag through the smoke and destruction, inspiration struck Key and he wrote his poem to the tune of the old English drinking song "To Anacreon in Heaven" - and thus "The Star-Spangled Banner" was born.
In song form, The Star-Spangled Banner became very popular throughout the country due to its patriotism - especially during the Civil War. At the turn of the century the song had been unofficially adopted as the national anthem by the United States military. Over a century later, in 1931, it was officially established as the national anthem of the United States of America.
In 2012, the United States Mint released a special silver dollar set honoring this important song, and the flag it represents. The 2012 P Star Spangled Banner Bicentennial Silver Dollar Set includes 1 uncirculated proof 2012 Star Spangled Banner Silver Dollar Commemorative Coin as well as a miniature replica of Frances Scott Key's original manuscript of his poem. It comes in special government packaging consisting of a colorful and detailed trifold case with the full Star Spangled Banner poem printed within. Also included is a certificate of authenticity from the United States Mint.
This set commemorating an important time in the history of the United States of America makes a great addition to any coin collection.
Add it to your collection!