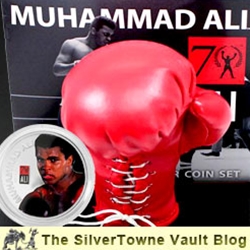 Muhammad Ali Coin
Best known as a former professional boxer, Muhammad Ali was born Cassius Marcellus Clay, Jr. on January 17, 1942. In addition to being a World Heavyweight Champion boxer, Ali has continued to be extremely active throughout his life as a philanthropist, social activist, humanitarian and artist. In 2012, The New Zealand Mint issued, under the country of Fiji, a Muhammad Ali Commemorative Coin Set that includes a 1oz .999 Fine Silver Proof Coin, a mini boxing glove and a display case along with a booklet and certificate of authenticity. The mintage was limited to 7,500 – making this a unique collector's item.
The beginning of the Muhammad Ali story was sparked by one key event – the theft of his bicycle as a child. In 1954, 12-year-old Cassius Marcellus Clay's bike was stolen while he and a friend were at the Columbia Auditorium in Louisville, Kentucky. Upon discovering that his bike had been stolen, young Cassius found police officer (and boxing coach) Joe Martin in a local gym, and boiling with youthful rage he told Martin he was going to "whup" whoever had stolen his bike. Martin admonished, "You better learn to box first." Within weeks, 89-pound Cassius had his first bout, and his first win. For the next 27 years, Cassius would be in that ring. Even in his youth, he had dreams of being heavyweight champion of the world.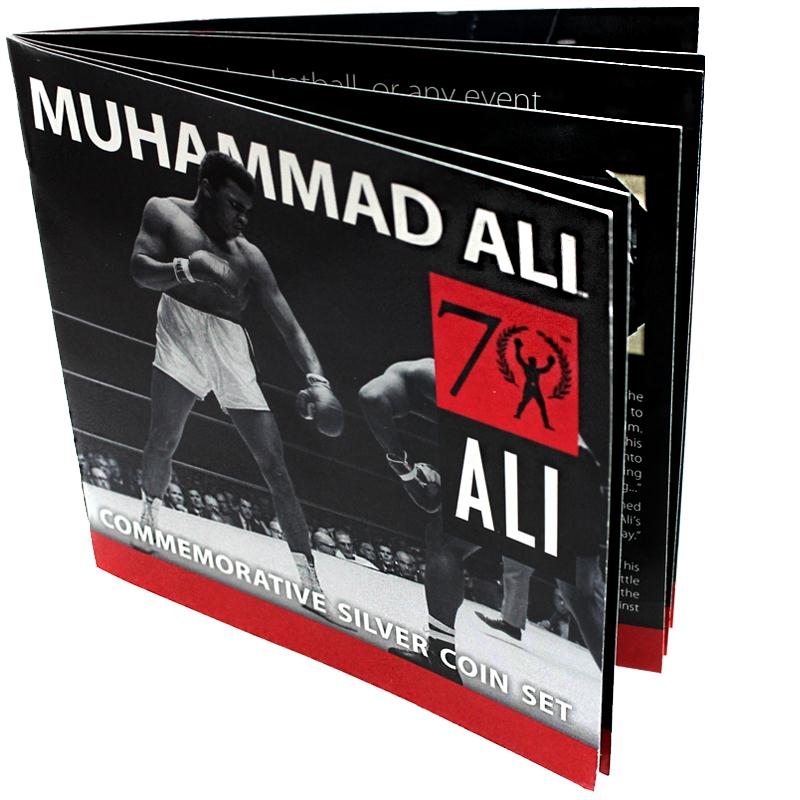 As a professional boxer, not only did Muhammad Ali proclaim himself as "the greatest ever", many others also recognize him as one of the best to have ever strapped on the gloves. Known just as much for his wit and "trash-talking" outside the ring, his accomplishments in the ring speak for themselves. His boxing career included two title fight victories over Sonny Liston, three legendary battles with Joe Frazier, a stunning victory over George Foreman and beating Leon Spinks for his unprecedented third Heavyweight Championship Title. His final boxing record is 56 Wins (37 knockouts, 19 decisions), 5 Losses (4 decisions, 1 TKO), 0 Draws.
In 1964, Cassius Clay Jr. announced that he was a member of the Nation of Islam and that his name was Cassius X. His name would soon be changed again to Muhammad Ali. In 1967, when the Vietnam War was escalating, Ali refused induction into the Armed Services on the grounds of religious beliefs. He was, in fact, a practicing Muslim minister. He was also the first national figure to speak out against the war in Vietnam. These events brought negative national responses toward Ali, and on the legal front he was stripped of his championship title, boxing licenses and passport while his court battle played out. In 1971, the Supreme Court reversed his earlier court conviction and upheld his conscientious objector claim. He was free to travel the world and box again, which he did for another 10 years. In 1981, at age 39, Muhammad Ali announced his retirement from boxing. Three years later he announced he has Parkinson's Disease. Even this did not slow him down – as demonstrated by his tireless humanitarian efforts.
Here is a summary of details you can find on The Official Site of Muhammad Ali®, www.ali.com: "Daring to go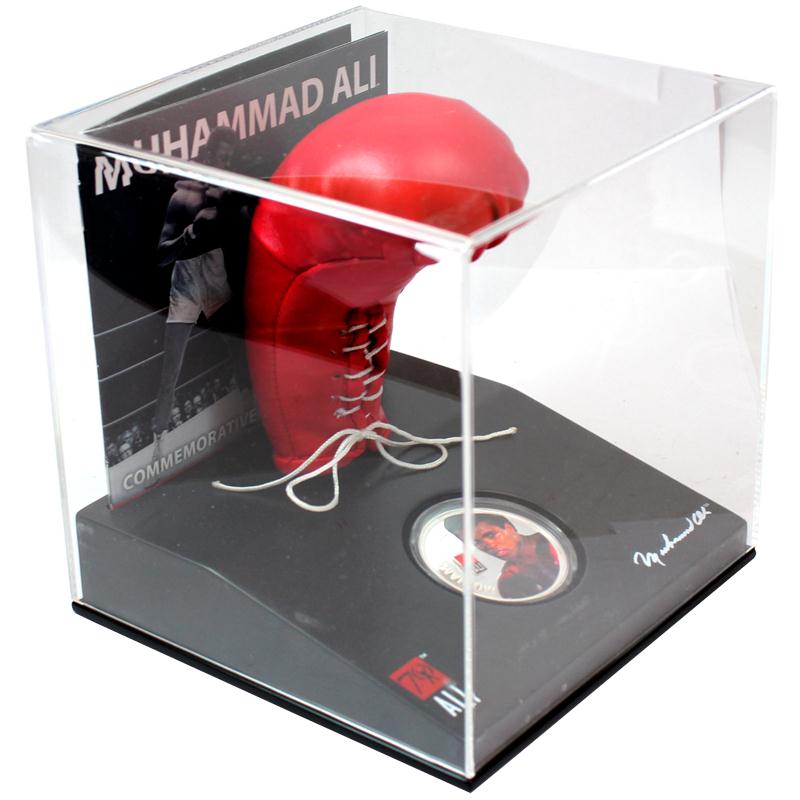 against political policy to help people in need, Muhammad has made goodwill missions to Afghanistan and North Korea; delivered sorely-needed medical supplies to an embargoed Cuba; traveled to Iraq and secured the release of 15 United States hostages during the first Gulf War; and journeyed to South Africa to meet Nelson Mandela upon his release from prison. Today, championing the issues in the developing world has become a major focus of Muhammad's life. He has been instrumental in providing over 232 million meals to the world's hungry. Traveling across continents, he has hand-delivered food and medical supplies to children in Cote D'Ivoire, Indonesia, Mexico, and Morocco among other countries. In addition to his international efforts, Muhammad is equally devoted to helping charities at home. He has visited countless numbers of soup kitchens and hospitals, and helped such organizations as the Make-A-Wish-Foundation and the Special Olympics. At the State Capitol in Michigan, he advocated new laws for protecting children."
Muhammad Ali has been the recipient of countless awards, including:

- United Nations Messenger of Peace in 1998-2008, for his work with developing nations
- Presidential Medal of Freedom in 2005, the United States of America's highest civil award
- Amnesty International's Lifetime Achievement Award
- Germany's 2005 Otto Hahn Peace Medal, for his involvement in the U.S. civil rights movement and the United Nations
- International Ambassador of Jubilee 2000, a global organization dedicated to relieving debt in developing nations
- State of Kentucky's "Kentuckian of the Century"
- The Advertising Club of Louisville's "Louisvillian of the Century"
- Sports Illustrated's "Sportsman of the Century"
- BBC's "Sports Personality of the Century"
- GQ magazine's "Athlete of the Century"
- World Sports Award's "World Sportsman of the Century"
Many quotes have been attributed to Muhammad Ali, with some of the most notable being: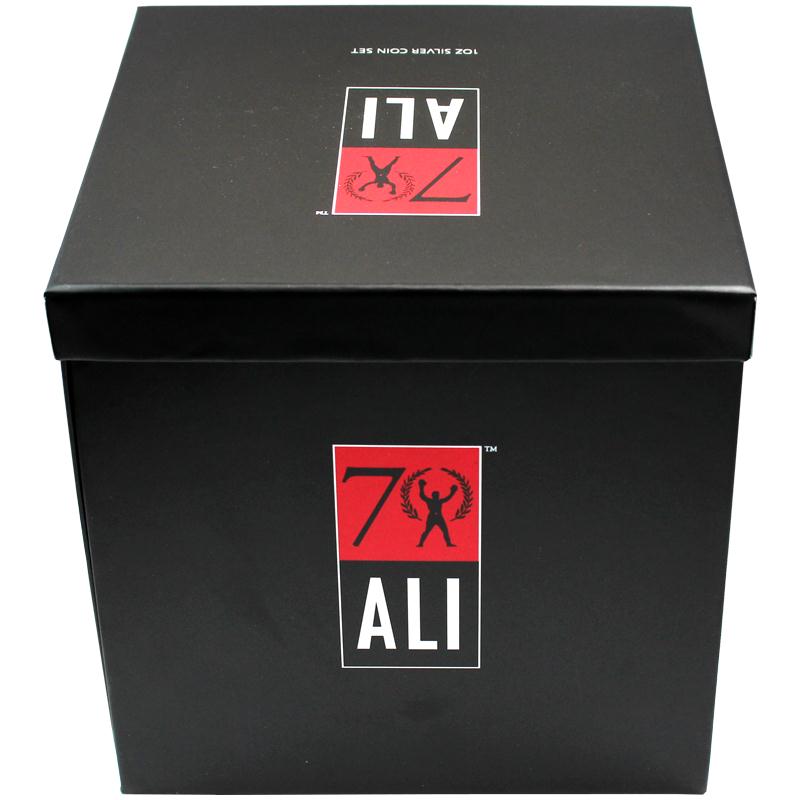 "Float like a butterfly, sting like a bee."

"Your hands can't hit what your eyes can't see."

"The man who views the world at 50 the same as he did at 20 has wasted 30 years of his life."

"I don't pretend to be friendly, like most people do when they're trying to get to the top. I AM friendly!"

"It isn't the mountains ahead to climb that wear you out; it's the pebble in your shoe."

"To be able to give away riches is mandatory if you wish to possess them. This is the only way that you will be truly rich."

"Champions aren't made in the gyms. Champions are made from something they have deep inside them: a desire, a dream, a vision."

"Service to others is the rent you pay for your room here on earth."
The Muhammad Ali Commemorative Coin Set makes a knock-out addition to any collection - Get Yours Today!