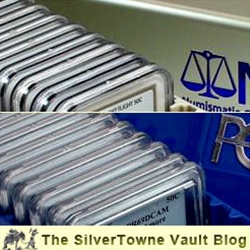 Commemorative Coins
Ancient Greeks and Romans used commemorative coins to honor important events of the day and to pass along current news. Modern mints from nations around the world have continued releasing their own versions of commemoratives to this day. For many collectors, commemorative coins are the highlight of their collection.
Commemorative coins produced by the United States Mint feature designs that celebrate and honor American people, places, events and institutions. In addition to commemorating American ideals, history and culture, these coins help raise money for important causes, like the building of new museums, maintaining of national monuments, preservation of historical sites and more. So when you add modern commemorative coins to your collection, not only do you get a beautiful coin, you are also helping generate funds for the betterment of the country.
Classic commemorative coins (pre-1982) have long been popular with collectors for their stunning designs and their historical significance, not to mention the profits that many collectors have realized for their commemoratives over the years. The coins have grown in popularity since the modern United States commemorative coin program began in 1982. In addition to being popular with coin collectors, commemoratives have also been getting more and more attention from the general public in more recent years – most likely boosted by the explosion of information available via the internet.
Commemorative coins made available by the U.S. Mint are not minted for general circulation, although they are legal tender. All commemorative coins are minted in limited quantities and are only made available by the U.S. Mint for a limited time. Collectors wanting to add commemorative coins to their collection can find a large selection of certified and raw Silver Dollar, Half Dollar and Gold Commemorative Coins at SilverTowne. In addition to the individual selections, an easy way to build a larger collection all at once is by purchasing handy, pre-built commemorative sets. Whatever era or styles of commemorative coins you enjoy, these historically significant coins make great additions to any collection!