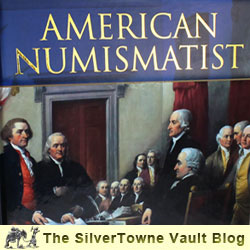 "American Numismatist"
Written for the American Numismatic Association (ANA) by Paul Hollis, American Numismatist is an enlightening book that draws the parallels of the history of the United States of America and all of the coins that have been struck along the way.
Hollis' book has been released for just over a year now, but has just recently crossed my desk. I found it to be a very interesting read full of historical numismatic stories. Going back to 1776 up to modern times (with a publication date of 2011), the book is a 180-page read of over 200 years of history of the United States and the nation's coinage and currency. Many topics are covered throughout the book's pages, including: The Birth of Our Nation, the development and growth of the United States Mint, the U.S. Banking System, The Comstock Lode, Circulating Coinage, Paper Money, Commemorative Coins, The Morgan Dollar, Saint-Gaudens' Gold Coins, Buffalo Nickels, The Peace Dollar, The 1933 Double Eagle, Kennedy Half Dollars, Bullion Coinage, and much more!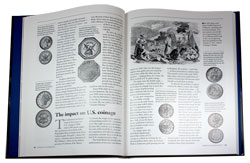 With beautiful images of coins, and many photographs of historical people, places and events to support the included stories, American Numismatist is an interesting read for collectors of all ages and abilities. The book is a great resource to help beginners learn all of the history that goes along with the coins that have been released throughout the history of the United States. Even seasoned numismatists will enjoy all of the details of the stories they may already know that are catalogued in the book.
American Numismatist includes a forward by John Albanese, one of the world's top-ranked coin graders and one of America's leading professional numismatists. A portion of this forward reads "To most people, coins and currency are objects to be spent and nothing more. They think of them simply as money in their pockets – when they think of them at all. But these small metal disks and engraved bits of paper actually represent a great deal more: They serve as pieces of history in our hands.
Most of us take it for granted that money has been a fundamental part of America's culture – and certainly its commerce – from the Republic's beginning more than two centuries ago. But U.S. coins and currency have been more than mere props in the drama of American history. At times, they have played significant roles in the way the drama unfolded. And at times they, in turn, have reflected important developments in the plot line….
…American Numismatist is an elegant – often eloquent – telling of a story that seems simple and straightforward at first blush but is really quite complex. The last two-and-a-third centuries have been filled with unforeseen – and sometimes unforeseeable – twists and turns for our nation and our money. Both have survived these tests of time somewhat battered but proudly unbowed.
If I were a history teacher, I'd give this remarkable book a resounding A-plus. I lack credentials to award that kind of grade, but I do feel fully qualified to bestow the numismatic equivalent: As a very strict grader of rare coins, I certify American Numismatist as a perfect, no-question Mint State-70."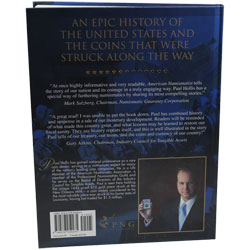 Along with several other industry leaders, Mr. Hollis also kindly mentions SilverTowne in his acknowledgments for American Numismatist: "Finally, I want to express my appreciation to David and Leon Hendrickson and to the entire Silver Towne family. Silver Towne's story is the embodiment of the American dream, and this outstanding family company is another reminder that really hard work can overcome just about anything. Being a very small part of the Silver Towne family for the last eight years has been a tremendous honor for me, and I will always be grateful for the opportunity that the Hendricksons have given me and the unwavering support that they all have always shown me." – Paul Hollis - Mandeville, Louisiana - June 2011
If you have any interest at all in numismatics, money in general, or American history, you'd be doing yourself a great favor by adding American Numismatist to your personal library.

To watch a video interview of the author discussing his book, visit the CoinWeek article New Book about Numismatic History by Paul Hollis.