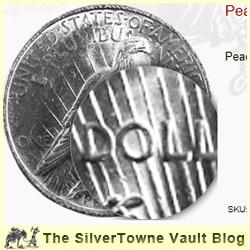 New and Improved
When shopping for coins and bullion, have you ever wished you could zoom in on the image to read the fine print or to see the details of the design? Now you can with the newly launched SilverTowne image magnifier! To try the new magnifier, simply visit any product page on www.silvertowne.com and give it a spin.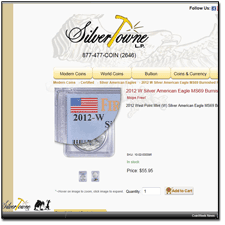 When you have a SilverTowne product page loaded in your browser window, hover your cursor over the main product image and the magnifier will appear. Through the magnifier you will be able to see a detailed view of the area you are hovering above. To make the magnified area larger or smaller you can use the scroll wheel on your mouse to control the size of the circular zoom area while hovering over the image.
If you prefer to just bring the image up to a larger size, you can still do that as well. To load the larger image you would still just click on the main image view. However, the larger images are also now enhanced, giving you the ability to scroll from one image to the next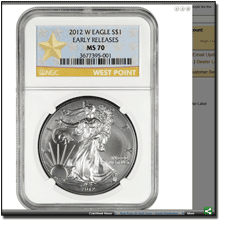 from within the same window (using the arrows in the upper corner of the window). No more closing the larger image to switch between views of a coin – allowing you to easily see the larger image of the front and back for instance. Once you are finished viewing the larger images you can click anywhere in the image window to return to the product page (or click on the "x" in the corner of the window).
Using the new SilverTowne image magnifier to get a detailed look at our images online is very similar to peering through a hand-held magnifying glass or loupe at a physical coin. This new tool will make it easy to zoom into a specific area of a coin as quickly as possible while browsing the site. Try it out and feel free to drop us a note on the SilverTowne Facebook page to let us know what you think. We hope you enjoy using the magnifier – and as always, thank you for shopping at SilverTowne.
Watch the below video for a tutorial and to see the magnifier tool in action!