American Silver Eagle Coins - A History
American Eagle bullion coins from the United States Mint are some of the most highly sought-after coins in the world. Modern Eagle coins come in platinum, gold and silver – and are considered by many collectors and precious metals investors to be the most beautiful bullion coins they own. But when did the U.S. Mint begin making these popular coins - and why?
Just after World War II, the United States created the United States National Defense Stockpile in order to store strategic materials of potential need for national defense. The silver stockpile was formed in 1968 to house a large quantity of silver (initially around 165 million ounces) for potential future use. A short time later, in the 1970s, it was determined that the supply exceeded any projected U.S. wartime needs. Legislative bills began to be penned in an effort to recommend the selling off of some of the silver stockpiles. In 1982, bills to provide for the disposal of silver from the National Defense Stockpile through the issuance of silver bullion coins were introduced by U.S. Senator James A. McClure and U.S. Representative Larry E. Craig, but were never enacted. Senator McClure introduced a similar bill again in 1983, and again it was shot down.
During this time, other methods were being explored to reduce the silver stockpile. However, any sales that were attempted tended to have a negative impact on silver markets in general. So Senator McClure persisted, once again introducing legislation with the idea to sell the stockpiled silver through the creation of a silver bullion coin. This latest legislation, proposed in 1985, took the form of an amendment to the "Statue of Liberty-Ellis Island Commemorative Coin Act". Senator McClure's amendment, the "Liberty Coin Act", provided exact coin specifications (including diameter, weight, fineness and inscriptions) for the new silver bullion coins, as well as required the silver used to produce the coins to come from the National Defense Stockpiles. This amendment passed both the Senate and House of Representatives and was signed into law by President Ronald Reagan on July 9, 1985.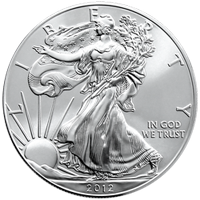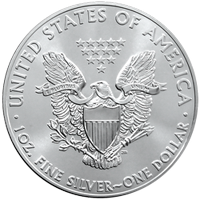 The first Silver American Eagle coin
was struck at the U.S. Mint in San Francisco on October 29, 1986, and it became the
official silver bullion coin of the United States
. Since their launch, Silver Eagles have also been minted at the U.S. Mints in Philadelphia and West Point. The bullion version of the Silver American Eagle is targeted mainly at investors and has been
offered every year since 1986
. The bullion versions don't have special finishes or have mint marks. Bullion Silver American Eagles aren't sold directly to the general public, but rather through a network of authorized dealers who resell them. From 1986-2008 and 2010-present a proof version of the Silver Eagle has also been offered. The
Silver Eagle Proofs
are issued specifically with coin collectors in mind, featuring a mirror-like finish and include a mint mark indicating the specific mint where the coin was produced. Another collectible version of Silver Eagles with a special satin finish,
burnished uncirculated
, was made available from 2006-2008, and again from 2011-present. Other "special issue" versions of Silver American Eagles have been produced over the years, such as reverse proofs, but are typically only offered as parts of larger sets.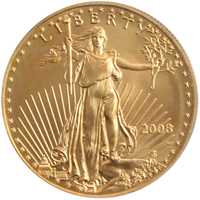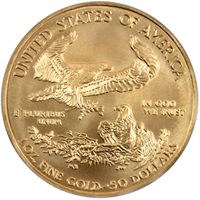 In 2002, it was realized that the National Defense Stockpile of silver would soon be depleted. Since the legislation for the American Silver Eagle bullion coins had stipulated that the silver used to produce these coins be acquired from this stockpile, further legislation would be needed for the silver bullion coin program to continue. In response, U.S. Senator Harry Reid introduced the "Support of American Eagle Silver Bullion Program Act", which would allow the purchase of silver on the open market once the silver stockpile was depleted. The bill passed the Senate and House of Representatives and was signed into law by President George W. Bush on July 23, 2002.
In addition to the Liberty Coin Act, which sparked the creation of Silver American Eagles in 1985, the "Gold Bullion Act" of 1985 was signed into law that same year. The first Gold American Eagles were subsequently released in 1986. In contrast to Silver American Eagles (which are only offered in 1 Troy Ounce weights), the gold version of American Eagle bullion coins are offered in 1/10oz, 1/4oz, 1/2oz and 1oz denominations. In 1997 a third precious metal – platinum - joined the American Eagle bullion coin family. Like their gold counterparts, Platinum American Eagles are also offered in 1/10oz, 1/4oz, 1/2oz and 1oz denominations. Offering the Gold and Platinum Eagles in various sizes makes them more accessible to more people.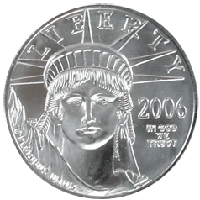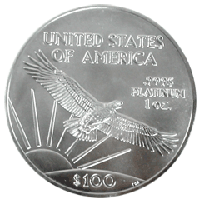 All of the silver, gold and platinum bullion coins in the modern American Eagle programs are guaranteed in weight, content and purity by the U.S. Government, providing investors with a convenient and cost-effective way to add small amounts of silver, gold and platinum to their portfolios. Official bullion coins from the U.S. Mint also offer coin collectors unique designs and finishes to add to their collections. So whether you're an investor, a collector, or both, SAEs, GAEs and PAEs offer something for everyone!