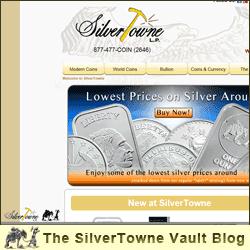 Web Updates
When we first launched the new www.silvertowne.com website back in September of last year, one of our main goals was to make it more user-friendly. This was accomplished through better categorization of products, easier checkout, an expanded product offering, and the addition of helpful information about SilverTowne as well as numismatic information in general. David Hendrickson, President of SilverTowne, sums it up this way - "At SilverTowne we strive to offer our customers a large selection of silver, gold and coins at the lowest possible prices. We redesigned our website in order to give our customers a better shopping experience online – to match what they had come to expect when doing business with us at coin shows and in our Winchester coin shop." Recently, you may have noticed that the SilverTowne website received an update to give it a cleaner look and to allow visitors to find what they are looking for even quicker.
Based on customer comments and additional research, the SilverTowne web team continues to update the website and overall online experience for our customers. Some changes we've made since the initial launch include: better sorting and filtering within categories (learn more), more relevant results when using the search box (learn more), the addition of an interactive market detail charts page to provide historical market data (learn more), and a social sharing bar that allows site visitors to share interesting content on any page with their friends and online communities (learn more).
In addition to making it easy for visitors to share content with their networks, SilverTowne is also active on many popular social media sites. You can find us, follow us, friend us, and interact with us at: Facebook (www.facebook.com/silvertowne), Google+ (http://plus.google.com/105576009883309422941?prsrc=3), Twitter (www.twitter.com/silvertownelp), LinkedIn (www.linkedin.com/company/silvertowne-lp), YouTube (www.youtube.com/SilverTowneLP), Flickr (www.flickr.com/photos/silvertowne) and now Pinterest (http://pinterest.com/silvertowne)!
Recently, SilverTowne launched a program that allows us to show our appreciation even more to our loyal customers. Our monthly silver giveaway gives you a chance to win free silver each and every month. To be eligible to win, all you have to do is be a current subscriber of the SilverTowne Email Registry when the monthly drawing takes place. And of course, no purchase is necessary to enter or win. If you're not already signed up to receive our email updates, click on the "Signup for Free Email Updates" link in the header of www.silvertowne.com. For complete details, read the Official Silver Giveaway Terms and Conditions (found at the SilverTowne Email Registry signup form).
Other improvements have been made to the website structure to help make it even easier for you to find what you are looking for. Since the initial launch of the new site we have added several categories, such as weekly specials (by popular demand from customers like you), limited quantities (to help you find unique or hard-to-find items to add to your collection) and custom minted (where you'll find all of the bullion items minted by SilverTowne Mint in one place). Additionally, we've worked on dividing some of our larger existing categories down into smaller, more focused sub-categories. The majority of these sub-categories are located under the main "coins & currency" category, and then cents, nickels, dimes, quarters, half dollars, dollars and supplies. Just a few examples of these sub-categories include Lincoln Wheat Cents, Mercury Dimes, Kennedy Half Dollars and Morgan Dollars. We have also added entire new product lines, like paper currency, as well as new custom minted items, such as our popular SilverTowne Trademark Buffalo Replica 1oz .999 Silver Bar.
One of our goals at SilverTowne is to bring you the best selection of coins and bullion available online, and at the best possible prices. This is why we feature thousands of items on our website, with more being added daily. We also strive to make doing business with SilverTowne an easy and enjoyable experience, so we'll continue to make improvements with this goal in mind. Many of our ideas for updates come from customers, so continue to share your thoughts with us. The best way to do this is to leave us feedback at our Facebook page, or email us at sales@silvertowne.com. Also, keep watching for updates (we currently have a few up our sleeves, like plans to bring you precious metal market updates in a format that we've never offered before, and a new specialty website that is in the works!). Thank you for being a SilverTowne customer (or at least checking us out) – as our founder Leon Hendrickson always liked to say, "Make new friends, but keep the old…one is silver, the other is gold".
For a virtual tour of some of the updates we've made to www.silvertowne.com, watch this video: