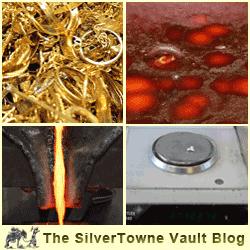 Silver and Gold Assay
How much are your silver and gold items worth? Find out with the help of SilverTowne's Assay Service! You can utilize the SilverTowne assay service to determine the percentage of gold or silver in your old coins, jewelry, table settings and other items – and therefore their overall value. All of our assays are performed at our own facility in Indiana, never sent to a third-party (so security and respect for your possessions are never in doubt). Once the value of your items is determined, you'll have the option of selling them in accordance with our pre-determined assay settlement terms.
The definition of an assay performed on metals (a metallurgical assay) is an analysis to determine the presence, absence, or quantity of one or more components (such as silver or gold) within raw materials or finished goods. When you schedule an assay service with SilverTowne, we'll first weigh your delivered materials. Then the materials will be sorted and examined, with any reclaimable precious gems being removed and set aside (at your request). Any non-qualified items (such as bench polishings and computer parts) will also be removed from the lot at this time. Once your materials are sorted they are melted down in a furnace heated to 1850 degrees F. The melted materials are poured into a mold to form a bar from which a sample is removed for the assay. We then use a method called fire assaying to determine the percentage of precious metal in the bar.
The Fire Assay method has been altered very little over the centuries, and is still considered the most accurate means of determining Gold and Silver content. The method involves a combination of intense heat, dry reagents and special vessels used to separate the precious metals from the rest of the extraneous material. The number of overall steps depends on the complexity of the starting materials. The two major processes in the Fire Assay method are defined as Scorification, the process of gathering the metals into a workable form, and Cupellation, the process of oxidizing the base metals away leaving the precious metals behind.
The Fire Assay method is an ancient, time-tested process that provides you with the most accurate determination of the value of the precious metals in your materials. The SilverTowne professionals have years of assay experience and take great pride in providing you with an accurate quote on your assay. So if you have silver and gold items you no longer want to hold onto, why not take advantage of the SilverTowne Assay Service to determine how much they are worth?
Watch the below video to take a virtual tour of the SilverTowne assay process: