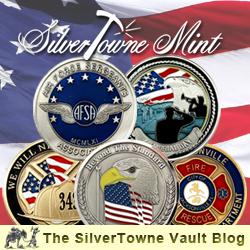 Customization Done Right
Like most numismatists, you're probably very familiar with SilverTowne, where since 1949 we've been providing savvy collectors and investors with great prices on a huge selection of rare coins, modern coins, bullion and more. But are you aware of our best-kept secret? In 1983, SilverTowne Mint was created to provide custom minting for Companies, Organizations, Churches, Public Servants and the Military. Since then, we have become a leading supplier of challenge coins and other custom minting products to customers throughout the United States.
The military "Challenge Coin" tradition can be traced back to World War I, when it was stressed to military personnel the importance of keeping a coin on their person at all times as a form of identification. The tradition continues to this day, having spread to all branches of the military, as well as Police, Fire & Rescue workers and other public servants. More recently, businesses and other organizations have begun using custom coins as a cost-effective way to impress customers, clients, members, employees and other business associates.
So how does it work?
1) Choose a design from our existing dies in our product showcase OR send us a custom design for the front, back or both sides of the coin. Can't decide? We'll help you create your design for free! Simply describe to us what you want, send us pictures, sketches, a logo…anything visual – we'll work with you on creating a design you'll love.
2) Once you have chosen your design ideas, contact us to discuss additional details we'll need in order to place your order.
3) After you've provided us with the details for your order, we'll send you a price quote for your custom designed coins.
At SilverTowne Mint, we make the entire process as simple as possible. We're committed to giving our customers the highest quality service, so your experience will be an enjoyable one from concept to finished product. Whether you choose one of our stock designs to go along with your custom designs, or you'd rather customize both sides of your coins, we will be with you every step of the process from beginning to end. Your coins will be proudly made in the U.S.A. - and because SilverTowne Mint is the manufacturer, with no middle man involved. So for all your custom coin needs, please visit www.silvertownemint.com - you'll be glad you did!