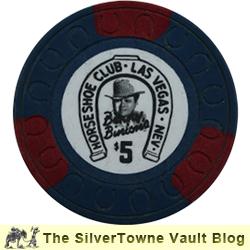 Coin Hoards of the U.S. - Binion Hoard
U.S. Coin hoards, often referred to as modern day "buried treasures", are sometimes quite literal to that reference. One such hoard, the Binion Silver Hoard, is one of the latest hoards to be revealed when it was discovered in a vault buried 12 feet underground in the Nevada desert. The vault was uncovered in Pahrump, 60 miles west of Las Vegas, on property owned by Lonnie Theodore "Ted" Binion. Ted is the son of Lester "Benny" Binion, who in 1951 started Binion's Horseshoe Club in Las Vegas. (The property is still open, but Harrahs owns the The Horseshoe brand name. As of 2008 it is owned by TLC Corporation and runs under the name Binion's Gambling Hall and Hotel.)
The Binion family became legends in the Las Vegas gaming arena while building and growing their gambling empire. In 1970, Benny invited seven of the best-known poker players in the United States to play in a tournament. They competed for cash and voted by secret ballot for a winner. The following year, a freeze-out format with a $10k buy-in was introduced. This small tournament went on to become the World Series of Poker (WSOP), which has exploded in popularity in the last decade helping the game of poker spread and become popular all over the world. Benny estimated in 1973 that someday the tournament may have 50 or more entrants. If he were alive today (he died in 1989) he would be surprised to learn that the main event alone had 8,773 entrants in 2006, which is the highest participation to date.
Growing up around casinos his whole life, Ted Binion developed an appreciation for coins – especially silver dollars - at an early age. In 1964, the year he turned 21, Ted began collecting and hoarding silver. According to an article published in the April 2002 issue of "The Numismatist", Ted Binion's personal philosophy was: "A dollar bill was merely a questionable paper promise printed by politicians. His understanding of history made him skeptical of such promises. Silver, on the other hand, had proven its value as real money since Biblical times. Silver, he believed, could be relied on to keep its value. That's why Ted liked owning silver dollars…lots of them." In addition to silver dollars (which consisted mostly of Morgan and Peace Dollars), the Binion Hoard also included Mercury Dimes, Roosevelt Dimes, Standing Liberty Quarters, Washington Quarters, Walking Liberty Half Dollars, Franklin Half Dollars, Kennedy Half Dollars and smaller quantities of other coins.
Even if you aren't lucky enough to own any coins from the Binion Silver Hoard, there is another way to own a collector's item from the historical events surrounding the hoard – by owning actual poker chips from the legendary Binion's Horseshoe Club. These unique Poker Chips feature Bennie's likeness and name on both sides as well as "Horseshoe Club-Las Vegas-Nev". There are a very limited supply of these collectible poker chips available at www.silvertowne.com in boxes of 100 pieces.
(sources: Wikipedia – Benny Binion; Wikipedia – Binion's Horseshoe; Wikipedia – World Series of Poker; The Binion Silver Hoard, by Brent Lee, June 2002)