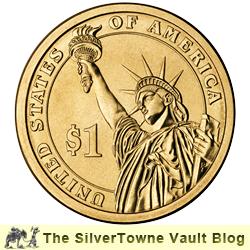 US Presidents - A Commemoration
The third Monday in February has come to be commonly known as Presidents Day across the Nation, a day to honor all who have held the highest office in The United States - although the holiday is officially on the federal books as "Washington's Birthday", which was originally celebrated on the first President's actual birthday, February 22nd, as far back as 1880. Whether you call it Presidents Day or Washington's Birthday, it's a good time to pay tribute to all who have held the office of President of The United States of America, with special remembrance of the "Father of Our Country", George Washington.
U.S. Presidents have been mainstays on United States coinage for over 100 years now. The first to appear on a regularly circulating U.S. coin (the one-cent coin released in 1909) was 16th President Abraham Lincoln, which we covered in detail in a previous Vault Blog post. The next President to receive this honor was 1st President George Washington, who first appeared on the U.S. quarter in 1932.
The Washington Quarter was designed to commemorate the 200th anniversary of the birth of the 1st President of The United States of America, and remains in circulation to this day. Although the reverse design has changed over the years from the original eagle design with releases of the Bicentennial Quarter (1976), the State Quarters® Program (1999-2008), the U.S. Territories Series (2009) and the America the Beautiful™ Quarters Program (2010-2021), Washington's image has remained on the quarter ever since.
Other Presidents to grace U.S. circulating coins include 3rd President Thomas Jefferson on the nickel (1938-present), 32nd President Franklin D. Roosevelt on the dime (1946-present), 35th President John F. Kennedy on the half-dollar (1964-present) and 34th President Dwight D. Eisenhower on the one-dollar coin (1971-1978).
In order to honor all our Nation's past Presidents with a coin of their own, the United States Mint began releasing Presidential $1 coins in 2007. There will be four one-dollar coins in the series released each year, in the order that the Presidents served, until all deceased Presidents have been honored. (By law, no living President's image can appear on a coin.)
There's no easier way to own a piece of history than by collecting United States coins featuring the country's past Presidents. Remember your favorite Presidents with coins!