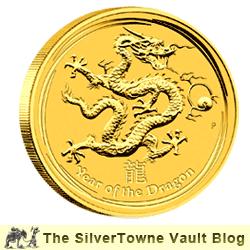 Lunar Series II - Year of the Dragon
The "Year of the Dragon" officially kicks off on January 23, 2012, but the collectible bullion coins from the Perth Mint Lunar Series II celebrating the dragon, the fifth animal in the 12-year cycle of the Chinese zodiac, are proving to be highly sought-after.
The reverse of each coin depicts a traditional Chinese dragon - a long, scaled, serpentine creature with four legs, and a 'pearl of wisdom'. The Chinese character for 'dragon' and the inscription 'Year of the Dragon' also appear in the design with The Perth Mint's traditional 'P' mintmark.
Year of the Dragon coins are exceptional choices for silver and gold bullion collectors looking to add to their collection, and they also make great gifts (or memorials) for people born in any year 'ruled' by the Chinese lunar dragon (including 1916, 1928, 1940, 1952, 1964, 1976, 1988, 2000 and 2012).
Shop a large selection of 2012 Dragons available now from SilverTowne!