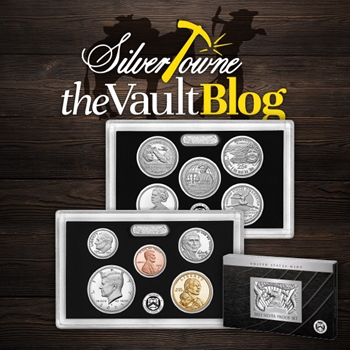 Up next on the United States Mint's 2023 Production Schedule is the 2023 Silver Proof Set. Struck at San Francisco, the 10-coin set will be available today at 12pm EST.
Featured in protective lens' to showcase their stunning Proof finish, the 10 coins will include all five 2023 American Women Quarters, a Native American $1 Coin honoring Maria Tallchief, one Kennedy half dollar, one Roosevelt dime, one Jefferson nickel, and one Lincoln penny. Retailing for $130.00, the set has a product limit of 260,040.
Bessie Coleman
Honoring Bessie Coleman, the reverse will depict her as she suits up in preparation for flight, her expression featuring her fierce determination for the skies as she longed to experience the freedom she did not have on the ground. A pilot, advocate, and pioneer, Coleman was the first African American to earn an international pilot's license. She was also the first African American and first Native American woman pilot. The design, sculpted by U.S. Mint Medallic Artist, Eric David Custer, also features the inscriptions "UNITED STATES OF AMERICA," "QUARTER DOLLAR," "E PLURIBUS UNUM," "BESSIE COLEMAN," and "6.15.1921" which reflects the date Coleman received her pilot's license.
Jovita Idar
The reverse featuring Jovita Idar, a champion for the Mexican American cause in an attempt to create a better future for immigrants, features her with her hands clasped. Within her body are inscriptions symbolic of her greatest accomplishments and the newspapers she wrote for. Idar was a journalist, activist, teacher, and suffragist. She dedicated her life to fighting against separatist ideologies and for the civil rights of Mexican Americans. Featured are the inscriptions "MEXICAN AMERICAN RIGHTS," "TEACHER," "JOVITA IDAR," "NURSE," "EVOLUCIÓN," "ASTREA," "EL HERALDO CRISTIANO," "LA CRUZ BLANCA," "JOURNALIST," "LA CRÓNICA," "EL PROGRESO," and "LA LIGA FEMENIL MEXICANISTA," in addition to "QUARTER DOLLAR," "E PLURIBUS UNUM," and "UNITED STATES OF AMERICA." The reverse was designed and sculpted by U.S. Mint Medallic Artist, John P. McGraw.
Edith Kanaka'ole
Sculpted by Mint Medallic Artist, Renata Gordon, and designed by AIP Designer Emily Damstra, the reverse features a portrait of Edith Kanaka'ole with her hair and lei po'o (head lei) morphing into the elements of Hawaii's landscape. This is to symbolize Kanaka'ole's life's work in pursuit of preserving the natural land and traditional Hawaiian culture. An indigenous Hawaiian composer, chanter, dancer, teacher, and entertainer, her stories, or mo'olelo, sought to preserve and rescue parts of Hawaiian history, customs, and traditions that were getting lost due to cultural discrimination at the time. The design features the inscription, "E hō mai ka 'ike," which translates into "granting the wisdom" and references the role of hula and chants that play into preservation. Additional inscriptions include "UNITED STATES OF AMERICA," "E PLURIBUS UNUM," "25c," "EDITH KANAKA'OLE."
Eleanor Roosevelt
The reverse design honoring First Lady Eleanor Roosevelt features a portrait of her and the scales of justice that are set against a background of a globe which is supposed to represent her work with the Universal Declaration of Human Rights. Roosevelt was an author, leader, and reformer. She was the chairperson of the Human Rights Commission where she oversaw the creation of the Universal Declaration of Human Rights. She was also the first chair of the U.N. Commission on Human Rights where she advocated for civil liberties and those needs of the disadvantaged, poor, and minorities. Designed by Don Everhart (AIP) and sculpted by Craig A. Campbell (Mint Medallic Artist), the design also features the inscriptions "UNITED STATES OF AMERICA," "QUARTER DOLLAR," "E PLURIBUS UNUM," "ELEANOR ROOSVELT," and "UNIVERSAL DECLARATION OF HUMAN RIGHTS."
Maria Tallchief
Designed by AIP Designer Ben Sowards and sculpted by the United States Mint Chief Engraver Joseph Menna, the reverse features Maria Tallchief under a spotlight in balletic pose. Considered America's first prima ballerina, Maria Tallchief broke even more barriers as she was a Native American ballerina who exuded strength and resilience on and off stage. Her Osage name, which translates to "Two Standards," is written in Osage orthography on the coin as well. Inscriptions included on the design are "UNITED STATES OF AMERICA," "E PLURIBUS UNUM," "QUARTER DOLLAR," and "MARIA TALLCHIEF."
Source: United States Mint