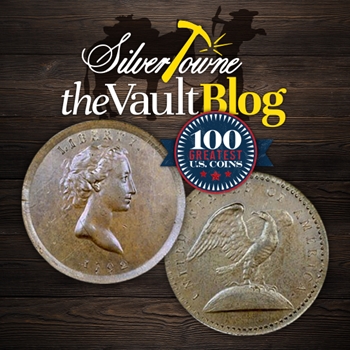 Pattern coins are always quite interesting to talk about, especially when they have the beauty and quality of a great United States coin and never got to see the light of day. That is the case for this next entry of our blog series featuring Whitman Publishing's 100 Greatest United States Coins publication. Following along with their fourth edition, author Jeff Garrett helps us navigate a quarter dollar pattern that never was.
#72 – 1792 Quarter Dollar Pattern
As part of a series of pattern coins "that were meant to pave the way for the regular production of coins in 1793," the 1792 quarter dollar was created but no quarter dollars were produced until 1796. Even then, the design had changed completely. The design of the 1792 quarter dollar pattern is given to Joseph Wright who was a United States artist that became the first engraver of the United States Mint.
While there was other 1792 pattern coins, the quarter dollar was deemed a mystery as there were no markings on the pattern that indicated which denomination or value it was supposed to hold. However, there has been quite a lot of speculation over the pattern. Its diameter matches the first cent coins to have even been made by the Mint in 1793, but its reeded edge tells a different story, one that indicates the intent of making either a gold or silver coin. Copper coins at the time had lettered or ornamented edges. The diameter of the 1792 quarter dollar pattern was also like the first half eagles which with the reverse design of the pattern being an eagle with no denomination indicated, the comparison made sense.
As all of the theories about the size of the coin and its design came to a head, it was finally revealed through contemporary evidence the real intent with the pattern. Before passing away in 1793 by yellow fever, Wright asked his neighbor to submit a bill to the Mint for work he had done. He called that work, "Two Essays of a Quarter Dollar." This concluded that the pattern coin was only ever for the 1792 quarter dollar.
Rare examples, if found, are available in several different metals and sizes. These include normal-sized copper pieces, oversized white-metal pieces, and one-sided pieces.
The historic market value of an example in Extremely Fine condition in 1960 was listed at $2,500. By the publication of this fourth edition (2015), that value rose to $650,000.