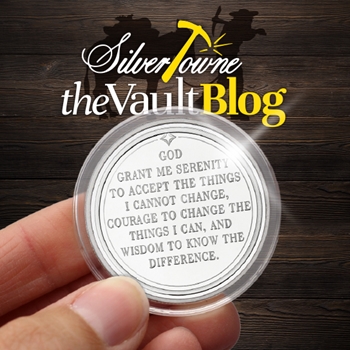 While we head into the second half of 2023, it seemed appropriate given everything going on in our country and our world to spread a helpful message. Often used in many ways today, including addiction recovery programs, the timeless message and reminder of hope that the Serenity Prayer gives is always needed no matter what is going on. The gentle reminder of encouragement and inspiration may be needed more than ever, no matter for yourself or for someone close to you. With that said, we thought it best to offer our Serenity Prayer silver medallion for June's silver of the month bullion piece. If you are not sure what that means, keep reading!
Do you like free shipping? Of course, you do. Do you like the opportunity to get silver without having to buy more than what you want? Who doesn't? Welcome to our unofficial official silver of the month club where you do not have to sign up or enter any more information than necessary. All you must do as a loyal SilverTowne customer is scroll to the "Silver of the Month" icon featured on our homepage to figure out what piece of silver is featured each month and boom, you are in!
Custom minted in Winchester, Indiana, the obverse of this .999 fine silver medallion features the first three lines (otherwise it is quite lengthy) of the widely recognized Serenity Prayer. The words read as follow on the design: "God grant me the serenity to accept the things I cannot change, Courage to change the things I can, and Wisdom to know the difference." The prayer is seen inscribed atop a proof-like reflective background. The reverse features our standard medallion back with the weight (ONE TROY OUNCE) and purity (.999 FINE SILVER) designated around the area left blank for optional engraving.
The Serenity Prayer silver round will arrive in a plastic capsule that fits snugly inside a premium dark gray foam insert. That insert will then fit directly into our in-house designed SilverTowne natural kraft gift box made from recycled materials within the United States. Top off this made in the USA medallion with a custom fitted box sleeve featuring a religious themed design or one of many designs available upon checkout. There are also a number of alternative packaging options presented when purchasing this .999 silver bullion piece.