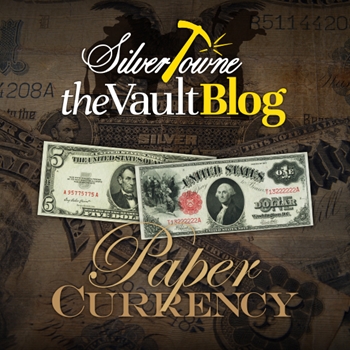 By now you have seen, and hopefully read, our blog series based on Whitman Publishing's 100 Greatest American Currency Notes book. With help from authors Q. David Bowers and David M. Sundman, we have explored many pieces of currency notes from the United States of America historic past
As we all know, everyone has used paper currency for its intended purpose. We've all purchased goods and services with cash at some point in our lives. But did you ever consider collecting it? Compared to coin collecting, fewer people have taken an interest in collecting paper currency until very recently. "Notaphily," which is the collection and study of paper money has become more popular in recent years. This is due mainly to the widespread availability of information on the subject which can be found easily on the internet and in print.
Helping the enthusiasm to spread are paper currency collector societies and clubs. And most recently, the utilization of third-party grading services to certify the collectible paper currencies has also aided in the excitement and interest of collecting.
Although we've been your trusted coin and bullion dealer since 1949, you can now count on SilverTowne to deliver when it comes to adding to, or beginning, your paper currency collection. Recently added to our website is a category dedicated to Paper Currency. Our inventory includes various years and grades of popular silver certificates, vintage confederate notes, and even modern Federal Reserve Notes.
Go ahead and take a peek at what we have to offer. You might just find a new interest within your numismatic hobby!