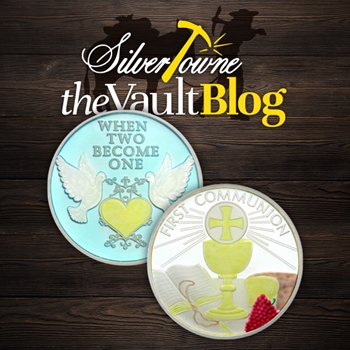 We have many classic designs when it comes to our silver bullion collection. With decades of experience producing our own .999 fine silver bullion, many designs have come and go in that time. However, there are a few that have stuck around due to their popularity. While those options have a certain staying power on their own, we decided to utilize our access to our enameling team and our ability to bring forth more creative ideas as a way to freshen up some of those older designs. Never painted before, we have two silver medallion options that are now available with enameling!
Custom minted at the SilverTowne Mint and exclusive to SilverTowne, these two silver options are both painted in house by our team of enamellers. They each have the current year-dated back on the reverse with the weight (ONE TROY OUNCE) and purity (.999 FINE SILVER) designated around the area left blank for optional engraving. Customized gift packaging is available at checkout!
The obverse of this classic wedding-themed silver medallion features two doves with wings stretched out wide holding a fancy heart shape. The words "WHEN TWO BECOME ONE" are inscribed above them. The background is painted a light blue while the doves are pearl white, and the heart is gold.
Symbolizing the last supper, a Eucharist with rays of light surrounding it along with a chalice, the Bible, a rosary, and bread and grapes (wine) are at the center of this design. The chalice, cross on the rosary and above the chalice, trim on the open Bible, and the end of the bread are featured in gold while the beads of the rosary are painted brown, and grapes are purple/wine-colored. "FIRST COMMUNION" is seen inscribed along the top of the outer rim.
New Hand Enameled .999 Silver Bullion Rounds