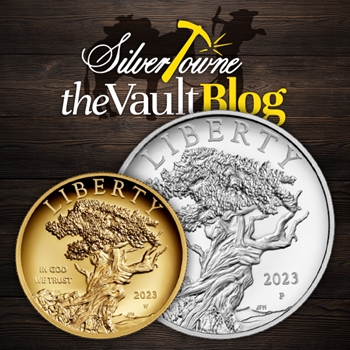 Last August we saw the release of one of the most anticipated items to come from the United States Mint in 2022 and before: American Liberty Silver Medal. While there have been American Liberty medals prior to last year's release, the unique design and break from tradition is what drew collectors in. Piggybacking off the success of last year's design, the Mint is sharing with us this year's designs slated for release in the Summer of 2023.
Depicting a modern portrayal of the idea of liberty, the obverse of both the silver medal and gold American Liberty coin feature a bristlecone pine, which is a tree species native to California, Nevada, and Utah. Thought to be one of the oldest living organisms on Earth, the bristlecone pines grow where other plants cannot and are often the first to repopulate after destructive and calamitous changes occur like lava run or glacial runoff. Inscriptions on the obverse design, which was sculpted by Josepha Menna and designed by Elana Hagler (AIP [Artistic Infusion Program]), read "LIBERTY," "WE SHALL PERSEVERE," "P (for Philadelphia)," and "2023."
The reverse, which features a young bald eagle standing on a rock moments before taking flight, includes the inscription "UNITED STATES OF AMERICA." It was designed and sculpted by Mint Medallic Artist John P. McGraw.
Struck in one Troy ounce of 99.9% fine silver, the silver medal is featured in a stunning Proof finish and was minted at Philadelphia.
The 2023 American Liberty High Relief Gold Coin is the sixth coin in the American Liberty series. The obverse depicts the same image as the silver medal in addition to the reverse. However, the reverse inscriptions read "UNITED STATES OF AMERICA," "1 OZ.," ".9999 FINE GOLD," "$100," "E PLURIBUS UNUM." Struck in a Proof finish, the West Point minted coin is comprised of one Troy ounce of 99.99% gold.
Source: United States Mint