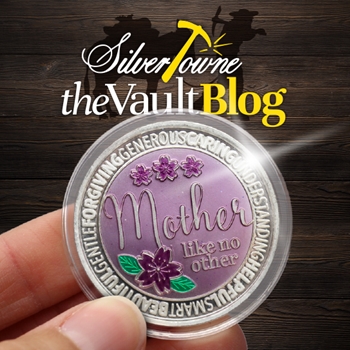 Mother's Day this year falls on Sunday, May 14th. For the love of all mothers, please DO NOT forget!
No matter what motherly influence that is a part of your life, they deserve to be celebrated. Whether it is your mother, sister, grandmother, aunt, cousin, niece, or friend, let them know how much you appreciate them by choosing a gifting option like silver bullion! It's fast, it's easy, and it's convenient, but do not let that fool you into thinking that it will make it any less special once you give it to them!
Handcrafted and in-house designed with our customers in mind, we have a special occasion silver bullion line that is specifically designed around all the mothers in our lives. No matter what you are looking for, we are certain to have something for everyone.
Custom minted at the SilverTowne Mint in Winchester, Indiana, this one-ounce silver bullion medallion features several flowers with the words "Mother like no other" atop a reflective background on the obverse. Around the outer rim of the design, you can see several words that describe our mothers: "GENEROUS, CARING, UNDERSTANDING, HELPFUL, SMART, BEAUTIFUL, GENTLE, FORGIVING." To further the beauty of the design, there is light purple enamel filling the background with dark purple and green enameling on the flowers. The entire obverse is topped with a thin layer of glitter to make it pop even more! The reverse on the silver round features our standard non-dated design that includes the weight (ONE TROY OUNCE) and the purity (.999 FINE SILVER) designated around the area for optional engraving.
To complete your gift for that special lady, your bullion piece will arrive in a protective plastic capsule that will sit tightly into our SilverTowne gift box made from recycled materials within the USA. A foam insert will ensure your piece's safety as it is custom fitted inside the box. To top it all off, our in-house designed packaging also includes an outer box sleeve with the option to choose from many available alternate designs! These sleeves also have a designated blank spot on the back to personalize the gift. No gift wrapping is necessary!