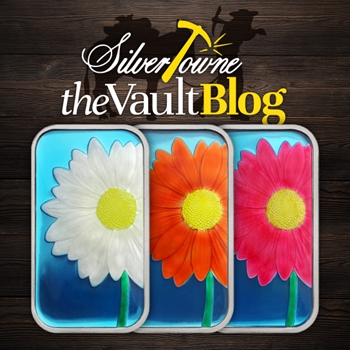 The month of April is when nature starts to transform. Flowers bloom, the leaves come back, the grass gets greener, and the temperature gets warmer. It is no wonder that the month's birth flower is a daisy as they symbolize love, fertility, and beauty in addition to new beginnings. If you are an April baby yourself or know someone who is, you are in luck as we introduced a Daisy 1oz Silver Bar to our bullion collection a few months back. Even more, we have decided to enamel some of those ingots in popular daisy colors!
Custom minted in the United States, this .999 fine silver bar is exclusive to SilverTowne and features a single, detailed daisy close up and in full bloom. The reverse features our standard non-dated design that includes the weight (ONE TROY OUNCE) and purity (.999 FINE SILVER) designated around the area left blank for optional engraving.
Your Daisy silver bar will arrive in a protective plastic capsule inside of our SilverTowne gift box with natural kraft paper made from recycled materials within in the United States. Top off this silver bullion piece with one of our in-house designed outer box sleeves. There are a number of packaging options available at checkout.
Representing purity and innocence, white daisies are often used in wedding flowers and wedding décor. Due to their bright and fresh appearance, they are often the most sought out in the spring.
Happiness, joy, and warmth are represented in orange daisies. Bright and colorful, they are the most exciting to send and receive!
Pink daisies are best for that special someone in your life as they represent love, romance, and gentleness. Also symbolizing feminine energy, sending or giving them to a woman in your life is ideal, especially if wanting to confess your feelings.
Source: bloomandwild.com