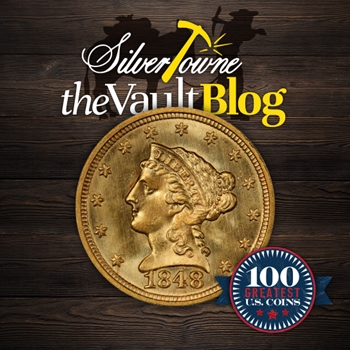 While we all know the major impact the California gold rush had on the country as a whole, sometimes we forget how much of an impact it had on United States coinage. We focus a lot on silver as a hobby, but we also know there are a lot of collectors out there who only deal in gold. When it comes to coins alone, gold tends to be more rare, more expensive, and more out of reach, especially when it comes to older ones.
In this edition of the 100 Greatest United States Coins blog series focusing on Whitman Publishing's top 100 list, we will take a look at a direct result of the California gold rush that ended up being a rare issue and highly sought after vintage gold coin from United States history. Author Jeff Garrett will help guide us through this incredible rarity.
#63 – 1848 "Cal." Liberty Head Quarter Eagle
When James Marshall found a gold nugget at Sutter's Mill on the American River way back in January of 1848, the California gold rush began. The impact of this event was far-reaching on the state of United States numismatics, especially since a new mint was established in San Francisco in 1854. Assayers and refiners began to strike their own coins and the double eagle became the a primary force in the United States' currency system. The 1848 CAL. quarter eagle was also a by-product of the discovery made in 1848.
In early December of 1848, military governor, Colonel R.B. Mason, sent 230 ounces of gold to the secretary of War, William L. Marcy. He then had the bullion delivered to the Philadelphia Mint where Robert M. Patterson, the Director of the United States Mint, was instructed to use some of it for specially marked quarter eagles. To commemorate the moment in 1848 when the first gold nugget was found, the Mint produced 1,389 pieces. They were all stamped with the CAL. Abbreviation on the top of the reverse design above the eagle's head. This special inscription alone had numismatists calling the quarter eagles the nation's first commemorative.
The 1848 "Cal." Liberty Head Quarter Eagle was and still is a highly desired coin not only because of its connection to the start of the California gold rush, but also because it is one of the rarest regular-issue Liberty Head quarter eagles. Another unique quality about the 1848 CAL. Quarter eagle is that because a lot of them display a reflective finish, many believed that they were struck in a Proof format. However, it was discovered that they were all struck from the same pair of dies at the same time. The dies had a Proof like finish, but not a Proof.
In 1960, this coin in an Uncirculated condition has a historical value of $1,500. By this fourth edition, the value rose to $100,000.