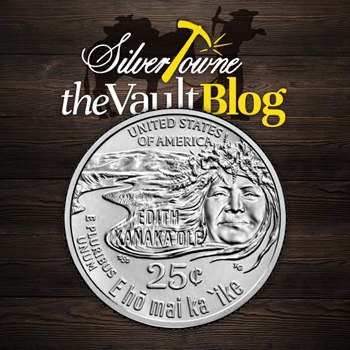 The second of five 2024 American Women Quarters will be released next week featuring Edith Kanaka'ole. Available on March 27th, the quarters will be released in 100-coin bags, 2-roll sets, and 3-rolls sets beginning at 12pm EST.
Sculpted by Mint Medallic Artist, Renata Gordon, and designed by AIP Designer Emily Damstra, the reverse features a portrait of Edith Kanaka'ole with her hair and lei po'o (head lei) morphing into the elements of Hawaii's landscape. This is to symbolize Kanaka'ole's life's work in pursuit of preserving the natural land and traditional Hawaiian culture. An indigenous Hawaiian composer, chanter, dancer, teacher, and entertainer, her stories, or mo'olelo, sought to preserve and rescue parts of Hawaiian history, customs, and traditions that were getting lost due to cultural discrimination at the time. The design features the inscription, "E hō mai ka 'ike," which translates into "granting the wisdom" and references the role of hula and chants that play into preservation. Additional inscriptions include "UNITED STATES OF AMERICA," "E PLURIBUS UNUM," "25c," "EDITH KANAKA'OLE."
The 100-coin bags and 2-roll sets will be available from Philadelphia and Denver while the 3-roll sets will also include coins from San Francisco.
The four-year series began last year and will continue through 2025. The program aims to honor and celebrate the achievements of women who have helped shape our nation's history. Five women will be honored each year with the reverse design featuring prominent women who made significant contributions in a variety of fields including but not limited to civil rights, government, suffrage, humanities, science, space, and the arts.
Source: United States Mint