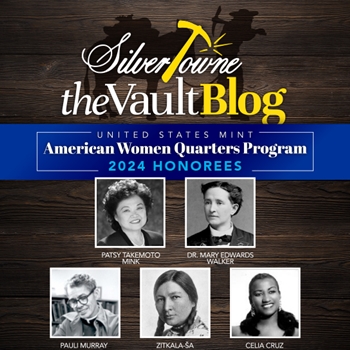 As the United States Mint's 2023 Production Schedule has kicked off, so has the American Women Quarters Program. So far, Bessie Coleman has been featured on the first individual release for the 2023 designs with Edith Kanaka'ole, Eleanor Roosevelt, Jovita Idar, and Maria Tallchief to follow throughout the remainder of the year. While we look forward to those releases in all their various forms, we have already been graced with next year's honorees via the United States Mint.
Patsy Takemoto Mink
The first woman of color to serve in Congress, Patsy Takemoto Mink fought for racial and gender equality, affordable childcare, and bilingual education. She helped with the passage of Title IX which was later renamed the Patsy T. Mink Equal Opportunity in Education Act.
Dr. Mary Edwards Walker
Crossing battle lines to care for wounded soldiers, Dr. Mary Edwards Walker was a Civil War era surgeon who at one point was captured by Confederate troops as a suspected spy. She was held prisoner for four months during the war and is the only woman to be given the Medal of Honor. She was also a women's rights advocate and abolitionist.
Pauli Murray
A fierce advocate for civil rights and a fighter against racial and sex discrimination, Pauli Murray was a poet, writer, activist, lawyer, and Episcopal priest. She co-founded the National Organization for Women in 1966 with Betty Friedan and other activists. She is regarded as one of the most important social justice advocates of the 20th century.
Zitkala-Ša (Red Bird), Gertrude Simmons Bonnin
Zitkala-Ša left her home on the Yankton reservation in South Dakota at the young age of just eight to attend a boarding school run by white missionaries. There, her native culture and traditions we not allowed. She would grow up to become a composer, writer, educator, and political activist for Native Americans' right to obtain United States citizenship and to gain the other civil rights they had been denied.
Celia Cruz (Celia Caridad Cruz Alfonso)
A Cuban-American singer, Celia Cruz was a cultural icon and one of the most popular Latin artists of the 20th century. She has been awarded with numerous honors, including five Grammy awards, a National Medal of Arts, and a posthumous Lifetime Achievement Grammy. She is known as "The Queen of Salsa."
Source: United States Mint