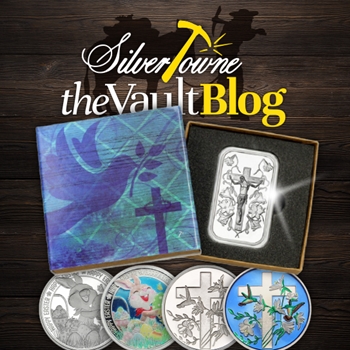 Easter Sunday is just one month away and we have been preparing our silver bullion rounds for those last minute additions to your Easter baskets! Whether you are shopping our Easter-themed medallions or our Religious-themed bars and rounds, we have a plethora of options to help out your gifting needs no matter the recipient!
Custom minted at the SilverTowne Mint in Winchester, Indiana, this exclusive silver round features the words "Happy Easter" repeated around 3/4ths of the design along the outer rim atop a reflective background on the obverse. An excited bunny is seen in the center of the design putting out his Easter eggs for the little kids to find. A baby chick, spring flowers, a butterfly, and an Easter basket full of decorated eggs can also be seen. The reverse features our standard current year-dated back with the weight (ONE TROY OUNCE) and purity (.999 FINE SILVER) designated along the bottom. There is a blank area on the back designated for optional engraving.
Your Happy Easter Joyful Bunny & Chick with Easter Basket 1oz .999 fine silver medallion will come in a protective plastic capsule that fits inside of a premium dark grey foam insert. The insert then fits snugly inside our in-house designed SilverTowne gift box with natural kraft paper made from recycled materials within the United States. Top off this Easter basket gift with a yellow ribbon outer box sleeve or choose from a number of other designs and alternate packaging options upon checkout. No gift wrapping is needed!
This option is also available enameled.
We have a plethora of Religious-themed silver bullion for this time of year and even year 'round. From plain bars and rounds to hand-painted (enameled) pieces and even religious themed packaging and American Silver Eagle gift holders, we have something for everyone.
Depicted on the obverse of this silver bar is the crucifixion of Jesus Christ as Golgotha. Isaiah 53:5 reminds us that Jesus Christ "was wounded for our transgressions, He was bruised for our iniquities; The chastisement for our peace was upon Him, And by His stripes we are healed." Christ willingly went to the cross as our substitute and without his sacrifice, each of us would face the penalty of death for our own sins. The high relief image on our silver bar features Jesus on the Cross. The 3D-like effect coming off the bar features Christ on the old rugged cross as Easter Lily flowers flow around him symbolizing Christ's purity as the sacrificial lamb.
The reverse of the silver ingot features the weight (ONE OUNCE) and purity (.999 FINE SILVER) around a designated area left blank for optional engraving.
The obverse of this silver round features the most universally recognized symbol of Christianity: the Cross. Representing Christ's crucifixion on Good Friday and His resurrection on Easter Sunday, the Cross is the centerpiece of this .999 fine silver medallion. Exclusive to SilverTowne, the cross has a frosted finish and is wrapped in Easter Lilies with two hummingbirds hovering around the flowers seeking out nectar. All of this sits atop a reflective proof-like background.
The reverse features our non-dated design with an open area left for optional engraving. The weight (ONE TROY OUNCE) and purity (.999 FINE SILVER) are designated around the border.
An enameled version of this design is also available.