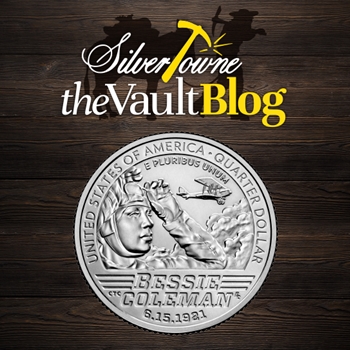 Today the United States Mint is geared up for its first release of the American Women Quarters Program for 2023. Available in 100-coin bags, 2-roll sets, and 3-roll sets from Denver, Philadelphia, and San Francisco (3-roll sets only), they will be available beginning at 12pm EST.
Designed by Artistic Infusion Program (AIP) designer Chris Costello, the reverse honoring Bessie Coleman will depict her as she suits up in preparation for flight, her expression featuring her fierce determination for the skies as she longed to experience the freedom she did not have on the ground. A pilot, advocate, and pioneer, Coleman was the first African American to earn an international pilot's license. She was also the first African American and first Native American woman pilot. The design, sculpted by U.S. Mint Medallic Artist, Eric David Custer, also features the inscriptions "UNITED STATES OF AMERICA," "QUARTER DOLLAR," "E PLURIBUS UNUM," "BESSIE COLEMAN," and "6.15.1921" which reflects the date Coleman received her pilot's license.
The four-year series began last year and will continue through 2025. The program aims to honor and celebrate the achievements of women who have helped shape our nation's history. Five women will be honored each year with the reverse design featuring prominent women who made significant contributions in a variety of fields including but not limited to civil rights, government, suffrage, humanities, science, space, and the arts.
Source: United States Mint