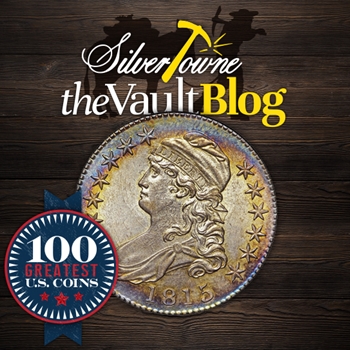 While early United States gold coins are highly sought after today and most of them rare, back when they were first issued it was a different story. Some gold coins stick out more than others and it all depends on their story so to speak. Our next entry in the 100 Greatest United States Coins blog series focuses on one of those stories and the rarity that follows. With author Jeff Garrett, we will take a closer look at a gold coin from the early 1800s that had the following said about it, "The Mint Report gives coinage of 635 pieces for the year. We have never met one of them."
#42 - 1815 Capped Head Half Eagle
In the early 1800s, large gold coins were not in demand by the public as the everyday citizen was not handling that amount of money. Per Mint records, there were three gold deposits at the Mint in 1815 that were melted together and a portion of it went to striking 635 half eagles. There was also a large sum of gold sitting in at the Mint ready to be melted in the coming year but a fire in January of 1816 would damage some equipment and cease production for a time.
Just a few of the original 635 half eagles from 1815 survived and the dozen that are known were pulled from circulation a long time ago. Back in the 19th century, the 1815 half eagle was the most famous of the gold coins before the rarity of the 1822 was known.
In 1960, the 1815 capped head half eagle was valued at $2,500 in an extremely fine condition. By this fourth edition (published in 2015), it was valued at $250,000.