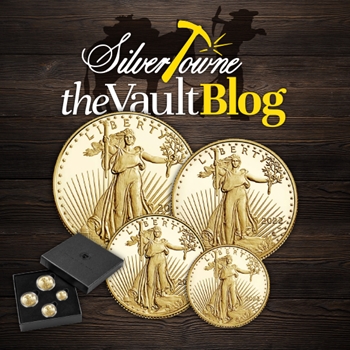 The United States Mint is slated to release the 2022 Proof Gold American Eagle Four-Coin Set today in addition to the individual coins that can be purchased separately. Beginning at noon EST, all the coins will be available.
Struck at West Point, the coins will feature the new reverse that depicts the portrait of a strong eagle. "UNITED STATES OF AMERICA," "E PLURIBUS UNUM," "IN GOD WE TRUST," and the denomination and weight can also be seen on the design. The 4pc set will feature each coin in a plastic capsule and set inside a black presentation case with the seal of the United States Mint on the lid. Struck in a Proof finish, the set will include a one-ounce ($50), half-ounce ($25), quarter-ounce ($10), and tenth-ounce ($5) piece all struck in 22-karat gold. With a product limit of 10,000, the retail will be $5,332.50.
In addition, each denomination will be available for purchase on their own. The individual coins will have the following mintage limits:
One-ounce ($50) - Mintage Limit: 16,000
Half-ounce ($25) - Mintage Limit: 12,000
Quarter-ounce ($10) - Mintage Limit: 14,500
Tenth-ounce ($5) - Mintage Limit: 24,000
All purchases are limited to one per household as quantities remain limited.
Source: United States Mint