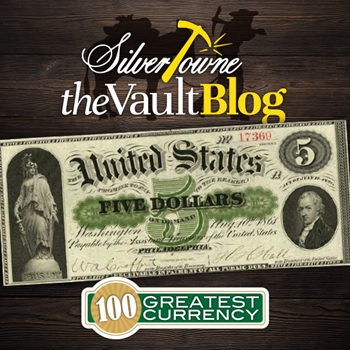 We have said it time and time again: the world of paper money is incredibly vast. Subtle differences, quirky names, first-year issues, only-issues, cancelled notes. These are just a few distinctions that apply to that niche of the numismatic business. The next entry in our 100 Greatest American Currency Notes blog series follows a well-known term given to a note that was popularized by the two series' after its initial issue. However, authors Q. David Bowers and David M. Sundman recognized this first Federal issue that initiated the terminology "greenback" in the Whitman Publishing publication.
#38 - First Federal "Greenback" Issue $5 Demand Note of 1861
As mentioned above, the Legal Tender notes of 1862 and 1863 may have popularized the term "greenback", but the first issued federally were the Demand Notes of 1861. Intended to be hand signed by the United States treasurer and Treasury secretary, it was found that this proved to be unrealistic and government employees would end up signing them with the addition of "for the." Early in the series, those notes were done by hand and would later be replaced by printed notations. The ones inked by hand are far more rare, however, the entire series is rare in itself.
The face of the notes featured the statue Freedom by Thomas Crawford that had been mounted on top of the United States Capitol building since 1863. When featured at the time on not just the Demand Notes but later the Legal Tender Notes of the series, the statue was a work in progress. Alexander Hamilton was also depicted on the notes.
In 1960, the Greenback Issue $5 Demand Note of 1861 was valued at $300 in a Very Fine condition. In 2006, it climbed to $6,000. However, in a Choice Crisp Uncirculated condition, the note is worth around $40,000.