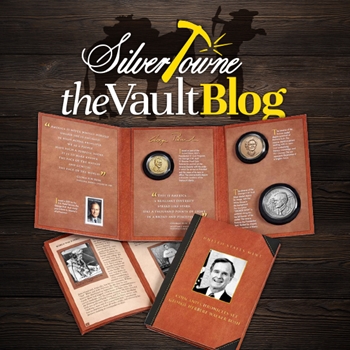 It seems as if the next product from the United States Mint has been a long time coming. It is, in fact, dated 2020. Originally slated for release last year, the Mint had no choice but to push back its availability due to ongoing and unfortunate circumstances surrounding this continuing global pandemic. However, it has finally been nailed down and will see the light of day on September 17th.
Going on sale at 12 noon EST is the George Herbert Walker Bush Coin and Chronicles Set. Honoring the legacy of the 41st President of the United States, the set will include a George H.W. Bush Presidential $1 Coin in a Reverse Proof Condition, a Silver Presidential Medal, a postage stamp, a Barbara Bush First Spouse Bronze Medal, and a biographical booklet with color images.
The Presidential $1 Reverse Proof Coin has been minted at San Francisco and will only be available in this set. The obverse of the coin will feature the likeness of the President with "GEORGE H.W. BUSH," "IN GOD WE TRUST," "41st PRESIDENT," and "1989-1993" inscribed around him. The reverse features the well-known figure of Statue of Liberty seen on all previous Presidential $1 coins. "UNITED STATES OF AMERICA" and "$1" are seen also with the inscriptions "E PLURIBUS UNUM," "2020," and the "S" mintmark incused on the edge of the coin.
Struck in .999 silver, the Presidential Silver Medal will feature the same design as the Presidential Bronze Medal. The portrait of President Bush with the White House in the background is depicted as "GEORGE BUSH" is seen following the top left arc of the design. The reverse showcases the Presidential Seal with torches on either side. The inscriptions "OUR TIME IS A TIME OF HISTORIC CHANGE, WHEN MEN AND NATIONS CAN TRANSFORM HISTORY" and "INAUGURATED JANUARY 20, 1989" are also featured. This silver medal is only available in the set.
Finally, the Barbara Bush First Spouse Bronze Medal features the same images as the First Spouse Gold Coin that was issued last year. The obverse features a portrait of the First Lady with "BARBARA BUSH," "41st," and "1989-1993" inscribed. The reverse depicts a person reading with a visible open road featured to represent literacy, knowledge, and the journey life takes us all on. The sun at the top symbolizes a brighter future.
With a product limit of 35,000 and a household limit of just one, the set will retail at $120.00.
Source: United States Mint