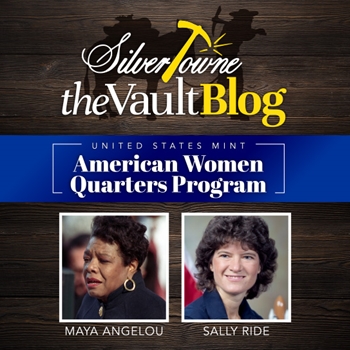 In mid-April, the United States Mint announced a new four-year program celebrating esteemed American women on the reverse side of circulating and numismatic quarter dollars. They also announced the first two women to be honored under the American Women Quarters Program: writer Maya Angelou and astronaut Dr. Sally Ride.
Authorized under Public Law 116-330, or the Circulating Collectible Coin Redesign Act of 2020, the Mint will issue both circulating quarters and numismatic quarters with reverses depicting the outstanding accomplishments of well-known and reputable American women starting in January of 2022. According to the Mint, "contributions may come from a wide spectrum of fields including, but not limited to, suffrage, civil rights, abolition, government, humanities, science, space, and the arts. The women honored will come from ethnically, racially, and geographically diverse backgrounds."
As per usual when it comes to persons depicted on coin designs, no living individuals will be featured as all the women must be deceased. The Mint has decided to release up to five different reverse designs a year for the four-year program as it will end in 2025. The obverse will still feature the likeness of George Washington, however, it will be designed a little differently to discern it from the current depiction of the first President of the United States.
The public has been invited to submit recommendations for future women to be honored on the quarter dollar reverse. The National Women's History Museum has a web portal set up via this link: https://forms.gle/3BgR3BLbFfJ69XdYA.
Public Law 116-330 also states that the Secretary of the Treasury will select the women to be honored amidst recommendations and consultations with the Smithsonian Institution's American History Initiative, the National Women's History Museum, and the Congressional Bipartisan Women's Caucus.
Source: United States Mint