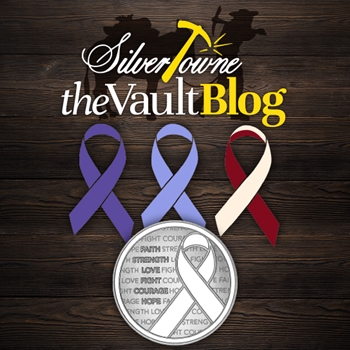 The month of April happens to be a month full of specific awareness days and month-long awareness campaigns. However, as our Awareness themed silver bullion looks to spread messages of support, courage, strength, and more, we are specifically taking note that it is a month that brings awareness to three different cancers: testicular, esophageal, and head & neck.
Testicular Cancer - Orchid (Purple/Violet)
Testicular cancer happens to be the leading cancer in men ages 15-44, according to the Testicular Cancer Awareness Foundation. While testicular cancer is not common, about 1 in 270, more men will die of the illness than women who have breast cancer. However, if detected early, testicular cancer is over 95% curable and the risk of dying is very low. The cause is currently unknown, but some of the risk factors include undescended testicles (cryptochordism), urological birth defects, family history, and is most common in Caucasian men. Monthly self-exams and early detection are key in the fight against testicular cancer!
Esophageal Cancer - Periwinkle
Esophageal cancer is a disease that occurs when malignant (cancer) cells form in the tissues of the esophagus, a hollow muscular tube that moves foods and liquids from the throat to the stomach. According to the National Cancer Institute, the cancer is found more often in men and starts in the inner lining of the esophagus and spreads outwards as it grows. Men are three times more likely to develop this cancer than women and chances increase with age. Some risk factors include smoking, alcohol use, gastric reflux, and obesity.
Head & Neck Cancer - Burgundy and Ivory
While you might think that head and neck cancers include the brain, eye, esophagus, and more, those are actually not classified as such. According to the National Cancer Institute, cancers of the head and neck begin in the "squamous cells" that line the moist, mucus surfaces of the head and neck like the mouth, nose, and throat. Areas include the oral cavity, pharynx (throat), larynx (voicebox), paranasal sinus and nasal cavity, and salivary glands. One of the most important risk factors for these types of cancer include alcohol and tobacco use as at least 75% of head and neck cancers are caused by it. Other factors include oral health (poor hygiene), preserved or salted foods (high consumption), occupational exposure (construction, textile, metal, food industries), radiation, Epstein-Barr virus, and genetics.
Show Your Support With Silver
Custom minted at our own SilverTowne Mint in Winchester, Indiana, these .999 pure silver bullion rounds are exclusive to SilverTowne. With an obverse that features an awareness ribbon atop the words "FAITH, STRENGTH, LOVE, FIGHT, COURAGE, AND HOPE" in bold letters, these words alone stand for encouragement and support. The reverse features our standard non-dated design with the weight and purity designations of "1 Troy Ounce .999 Fine Silver" encompassing a 'blank' area designated for personalization with optional custom engraving.
Spreading awareness with the unique gift of silver is truly a once in a lifetime experience. Developed over three years ago by an experienced in-house team, this addition to our special occasion silver is truly something to be proud of. Commemorate those you love with a powerful message of support and hope while spreading awareness with this special piece.
Source: Testicular Cancer Awareness Foundation; National Cancer Institute