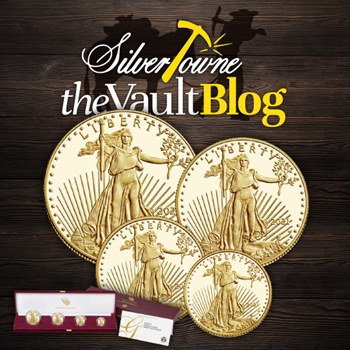 You all should be aware by now that after 35 years, the Silver & Gold American Eagle programs are getting a major design change this year. While it is still unknown when the new designs will take over, we still have some of the annual releases in the lineup for a last-ever, final version of the current design. One of those releases happens to be today for the American Eagle 2021 Gold Proof Four-Coin Set.
With a production limit of just 8,200, the 4pc gold set will be the final version featuring the original "Family of Eagles" reverse. Struck in 22-karat gold and produced at West Point Mint, the set will contain the fractional versions of the coin in a one-ounce $50 denomination, half-ounce $25 denomination, quarter-ounce $10 denomination, and tenth-ounce $5 denomination. The set will be packaged in a burgundy velvet, satin-lined presentation case accompanied by a Certificate of Authenticity. It will retail from the United States Mint for $4,410.00
If you are interested in specific denominations of the set, each fractional denomination coin will be available separately from the Mint as well. The Proof 1oz $50 Gold Eagle will be available for $2,375.00, the 1/2oz $25 Gold Eagle for $1,205.00, the 1/4oz $10 Gold Eagle for $615.00, and the 1/10oz $5 Gold Eagle for $260.00. Each denomination has their own product limit and will also go on sale today at noon EST.
Source: United States Mint