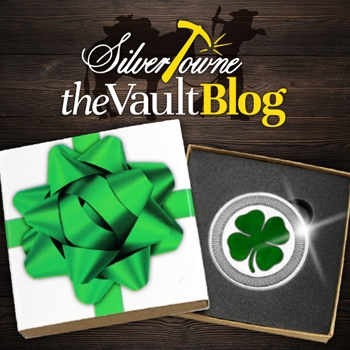 After Valentine's Day, usually people's first thoughts are to skip right to Easter. However, there is a holiday in the middle that people often forget about until right before it occurs. But if we mention party beads, green beer, parades, and four-leaf clovers, would it jog your memory?
St. Patrick's Day has been celebrated or honored since the ninth and tenth centuries. The very first parade took place in 1762 in the United States when Irish soldiers serving in the English military marched through the streets of New York City with their native music. At the time, the parade was said to have helped the soldiers reconnect with their Irish roots. Since then, celebrations have taken place all over the world.
While beads, green beer, party decorations, and more are thought of in celebration of the holiday marked for March 17th, we have a silver bullion piece that is sure to honor the holiday in a more unique way.
Help bring good luck and fortune to those around you with this .999 fine silver medallion that is available in both enameled and plain silver! Each leaf of a four-leaf clover is said to represent different things: the first is to represent faith, the second for hope, the third for love, and the fourth for luck. Featuring a stackable rim, this medallion is custom minted in the United States at our very own SilverTowne Mint in Winchester, Indiana.
The obverse of this exclusive round features a four-leaf clover that has been stamped into a proof-like background. The outer rim has the interlocking Stackable finish for easy and convenient storage. The enameled version is hand-painted with a deep green color and topped off with a clear coat. The reverse depicts our standard non-dated design that includes both the weight (ONE TROY OUNCE) and purity (.999 FINE SILVER) designation below an area that is specifically designed for engraving.
To complete this lucky gift, your Four Leaf Clover Stackable medallion will arrive in a protective plastic capsule to ensure optimal safety. It will then fit snugly inside a premium dark grey foam insert that fits directly into our in-house designed SilverTowne gift box made with natural kraft paper made from recycled materials within the United States. To top it all off, choose a green bow outer box sleeve from a number of available designs to make this gift easy and convenient. There is a blank space on the back for personalization. No gift wrapping is needed!