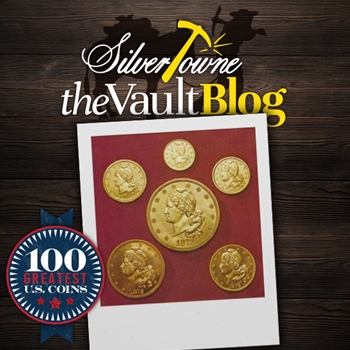 William Barber is a name that you most likely have heard before, but it may not be as recognizable as his son, Charles Barber. Despite your familiarity with either man, they both have quite the presence in United States coinage and have been Chief Engraver of the United States Mint. While Charles Barber gained his notoriety with Barber coinage (even though they were short lived), William Barber made a name for himself when it came to the production of pattern coins. Some of those coins have made it on a prestigious list.
Next in our series exploring Whitman Publishing's 100 Greatest United States Coins fourth edition publication, we take a look at a top 20 pick that sets itself apart from a number of rarities within United States coinage. With author Jeff Garrett alongside Ron Guth, we will hone in on the pattern set that has exchanged hands in the business for more than $25 million in recent years.
#16 - 1872 Amazonian Gold Pattern Set
William Barber produced a number of pattern coins in the year 1872 and among those were Amazonian gold coin patterns. The coins, included in a gold set, were a $1 piece, a quarter eagle, $3 piece, half eagle, eagle, and double eagle. There were a total of three sets featuring the denominations and only one of them was struck in gold.
When this set came to light, it was archived in a list of known coins put together by Robert Coulton Davis in 1886. The gold set in particular would later be known to be in the hands of William Woodin. Woodin would later become a secretary of the Treasury. However, somehow the set would end up being broken up, separating the gold dollar coin and the other five coins. The other five coins from the set would end up in King Farouk's collection, which would eventually be sold in auction in 1954. Purchased by Dr. John Wilkison, the coins would end up being offered individually. Wilkison would get his hands on all of them and eight years later in 1962, he would finally track down the gold dollar coin to once again make the set complete. Wilkison would end up being one of the leading collectors in gold pattern coins and the Amazonian set would be his favorite in his collection.
In 1973, Dr. Wilkison's collection of gold patterns would be purchased by Paramount International Coin Corporation. In 1983, the set would sell at the American Numismatic Association's convention for $418,000. The set would end up in a collection of gold Proof coins put together by devotee Ed Trompeter.
Back in 1960, the set was given a historical value of $15,000 in a Choice Proof condition. By 2015, the value rose to $6,000,000.