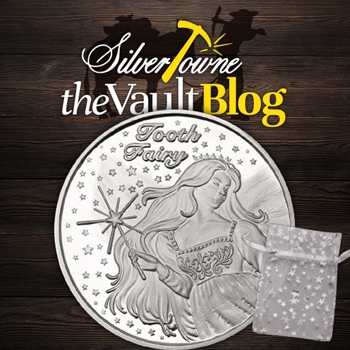 It is not often that you come across a national holiday that is celebrated twice a year. In fact, it is not often that a holiday that is not well known is celebrated that much and people still are surprised by its existence. So what holiday are we talking about? National Tooth Fairy Day!
Celebrated on both August 22nd and February 28th, the day was created to honor the creation of the dentist's helper and bring awareness to the importance of good dental hygiene. Back in the early 1920s, fairies were used in all sorts of ways to encourage kids to remember to take care of themselves from eating their vegetables to taking good care of their teeth. While the tooth fairy has brought about a monetary value on losing one's teeth as a young child in today's society, it is important to note that her presence is a large part of one's childhood in general no matter the reason. That is why we have chosen to celebrate National Tooth Fairy Day on February 28th by choosing our Tooth Fairy silver medallion as the silver of the month. Not sure what all of that means? The explanation is below.
Do you like free shipping? Of course, you do. Do you like the opportunity to get silver without having to buy more than what you want? Who doesn't? Welcome to our unofficial official silver of the month club where you do not have to sign up or enter any more information than necessary. All you have to do as a loyal SilverTowne customer is scroll to the bottom right of the homepage to figure out what piece of silver is featured each month and boom, you are in!
Celebrate National Tooth Fairy Day with this special, exclusive one-ounce .999 fine silver round that features the Tooth Fairy! Custom minted at our own SilverTowne Mint, the obverse features a whimsical Tooth Fairy as she's in flight. In her hand lies a magical star wand as her long hair, crown, and dress give her princess-like features alongside her wings in the background. "Tooth Fairy" is inscribed on the top left along with several stars scattered among the proof-like background. Our standard non-dated back can be found on the reverse of the design as the weight and purity designation (ONE TROY OUNCE .999 FINE SILVER) is displayed around the area for left blank for engraving.
This beautiful celebration silver medallion will arrive in a protective plastic capsule to ensure it arrives safely. It will then be placed in a small, white organza pouch with silver stars that makes it easy for placing underneath a child's pillow! Much like our other silver bullion options, there are also alternate packaging options to choose from upon checkout as gift wrapping is no longer needed. With our in-house designed specialty packaging, gift-giving has never been more easy or efficient!
Source: www.nationaldaycalendar.com