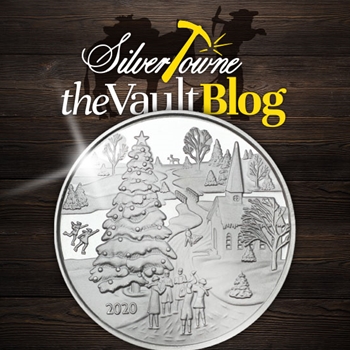 ♫♫ It's the most wonderful time of the year. There'll be much mistletoeing, And hearts will be glowing when loved ones are near. It's the most wonderful time of the year! ♫♫
Just over ONE WEEK TO GO! Last-minute shoppers, we're talking to YOU! Simply put, if you need ideas, we have got them. They come in the form of the 2020 Christmas Silver Bullion collection here at SilverTowne. There is something for everyone and no, we are not just saying that. Every year, our in-house design team crafts new designs that speak to everyone while bringing back old designs that proved to do such once upon a time ago. So, if you need something in a pinch and want to make it unique, Christmas silver is the way to go.
If you are a routine customer of ours at SilverTowne, you already know the drill this time of year. If you are not, we welcome you with open arms to explore not only our complete and exclusive line of silver bullion but specifically our 2020 Christmas Silver Collection! All custom minted at our own SilverTowne Mint in Winchester, Indiana, using .999 fine silver bullion, these pieces are designed and produced in-house with festive packaging to complete your holiday shopping lists!
The obverse features a snowy winter scene that includes a town Christmas tree lighting taking place. Enjoyed by the community, the scene features carolers, a snowball fight taking place in the background, and a child pulling a sled down the snowy street. The reverse features our standard Christmas design dated "2020" at the bottom arc of the design. The weight (ONE TROY OUNCE) and purity (.999 FINE SILVER) is displayed along the bottom of the area meant for optional engraving. A special Christmas message reading "Best Wishes For Peace And Joy This Holiday Season" can be seen along the top arc of the reverse.
Your Community Christmas Tree Lighting Celebration Medallion will come protected in a plastic capsule to ensure its safety. The piece will then fit snugly inside of a premium dark grey foam insert that will then fit directly into our in-house designed SilverTowne gift box made of recycled material. Finish your Christmas silver gift off with one of our specially designed Christmas outer box sleeves! The sleeves are designed with a blank area on the back to write a message To/From with the gift-giving season in mind. No gift wrapping is needed! There are a number of other packaging options available at checkout including other outer box sleeve designs, additional box options, and ornament capsules (pictured).