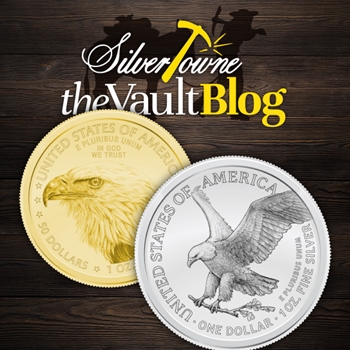 We reported a while back about the United States Mint's plans to redesign the reverse of both the Gold and Silver American Eagle coins. It was not that we did not believe them, but with the way 2020 has been going and not hearing much about how the process of those changes was taking place and when, we were not sure how those plans would pan out. Thankfully, they made us fully aware as they made it official in a press release issued from the Mint on October 1st. In that press release, they unveiled the new reverse designs for both the American Eagle programs as well as the designers. The designs, set to appear on both bullion and collectors coins midyear, will mark the 35th Anniversary of the American Eagle Coin Program.
American Gold Eagle Redesign - 2021 Reverse
Featured on the reverse of the gold coins is the bold portrait of an eagle design by United States Mint Artistic Infusion Program (AIP) designer Jennie Norris. The inscriptions featured around the rim of the coin read "UNITED STATES OF AMERICA," "E PLURIBUS UNUM," "IN GOD WE TRUST," "50 DOLLARS," and "1 OZ. FINE GOLD." The design was sculpted by Renata Gordon, a Mint Medallic Artist.
American Silver Eagle Redesign - 2021 Reverse
Carrying an oak branch, the reverse of the silver coin features a single eagle coming in for a landing. Mint AIP designer Emily Damstra also featured the inscriptions "UNITED STATES OF AMERICA," "E PLURIBUS UNUM," "1 OZ. FINE SILVER," and "ONE DOLLAR" around the edge of the coin. The design was sculpted by Mint Medallic Artist Michael Gaudioso.
Both obverses of the silver and gold coins will remain the same since their inception in 1986. The San Francisco Proof American Silver Eagle set for release today and the Uncirculated One-Ounce American Gold Eagle from West Point set for release on November 19th will be the last issues featuring the current reverses for both programs.