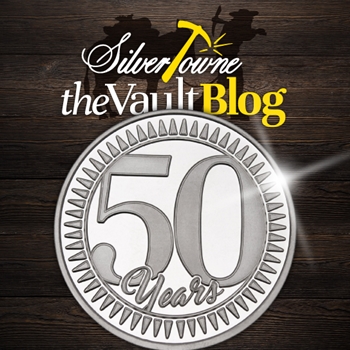 Half a century. Five decades. Semicentennial. It does not really matter what you call 50 years. The point is, it is a long time and we mean no offense to anyone who may or may not have already entered those golden years. With everything we have going on in 2020, we very well know that a lot can happen in just a year. Multiply that by 50 and whoa, we are not even sure that kind of time is comprehensible anymore.
Regardless if it is an anniversary or birthday or employment celebration, milestones deserve to be recognized. We truly believe that here at SilverTowne and that is why over the past four years or so, we have designed, produced, and implemented the offering of anniversary medallions. One of those medallions observes the 50th Anniversary of anyone who feels they have an occasion that fits the description. For the month of August, we just so happen to have this golden year celebration medallion available for the Silver of the Month. Unsure of what all that means? Pay attention, collectors.
Do you like free shipping? Of course, you do. Do you like the opportunity to get silver without having to buy more than what you want? Who doesn't? Welcome to our unofficial official silver of the month club where you do not have to sign up or enter any more information than necessary. All you have to do as a loyal SilverTowne customer is scroll to the bottom right of the homepage to figure out what piece of silver is featured each month and boom, you are in!
Exclusive to SilverTowne and produced at our very own SilverTowne Mint in rural Indiana, this .999 fine silver medallion features the number "50" in the center of the design in bold on the obverse while the word "Years" can be seen below it in script font. Surrounded by a festive star-burst edge, it showcases just how bold and loud and proud one should be at the thought of celebrating 50 years!
The reverse features our standard year-dated back (2020) with the weight and purity designation (ONE TROY OUNCE .999 FINE SILVER) displayed around an area that is intentionally left black for optional engraving. Using 40 characters or less, personalize this piece with names, dates, and special messages to make this silver round a truly memorable gift!
Your specialty round will come protected in a plastic capsule that will fit snugly inside a premium dark grey foam insert. The foam insert will then fit directly into our custom in-house designed SilverTowne gift box with natural kraft paper that is made with recycled materials within the United States. Top off this Silver of the Month purchase with an outer box sleeve at checkout. There are a number of packaging options available, including a Congratulations! Gold Glitter box sleeve or a Gold Bow box sleeve to match the golden anniversary. There are specially designed areas on the back that are left blank to personalize your To/From message. No gift wrapping is needed!