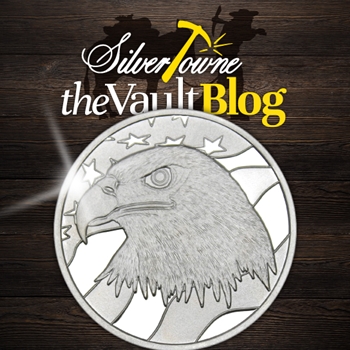 These United States are going to be in celebration mode next weekend as it will be the official anniversary of the nation's independence. Most commonly known across the country as the Fourth of July, we celebrate the birth of a nation as the Declaration of Independence was signed and adopted by the 13 colonies. For nearly 250 years, Americans have taken part in festivities ranging from fireworks, barbeques, parties, concerts, family gatherings, and more. This year, America's birthday is on Saturday, July 4, 2020.
Another way to celebrate this July 4th is with Patriotic silver bullion from our collection here at SilverTowne. Available all-year-round, it is especially popular right now with our nation's birth in mind. From ingots to medallions to enameled options and more, we have something for everyone while celebrating this great nation.
This popular silver medallion is custom minted at our very own SilverTowne Mint in Winchester, Indiana. The obverse features the strong profile of the symbol of America itself, the American Bald Eagle. Its face sits amidst the greatest symbol of this country, the American flag.
The reverse features the inscription of the Pledge of Allegiance itself, reading "I pledge allegiance to the Flag of the United States of America, and to the Republic for which it stands, one Nation under God, indivisible, with liberty and justice for all." The fineness and weight are distinguished below it, reading "One Troy Ounce .999 Fine Silver".
This .999 fine silver medallion comes protected in a plastic capsule that fits snugly inside of our in-house designed premium grey foam insert. The insert directly fits into our SilverTowne gift box made with natural kraft paper made from recycled materials within the United States. Choose a custom-fitted outer box sleeve at checkout to complete your gift. We have a couple of different America-themed options available or choose from our other alternate packaging options. No gift wrapping is needed as the sleeves were designed with blank areas on the back for optimal personalization.